Home
»
China military
» Reputation of the rise of the Chinese Navy to deploy 2.9 faster new submarines per year
Reputation of the rise of the Chinese Navy to deploy 2.9 faster new submarines per year
Date:2011-09-03
Author:admin
Category:China military
Comment:0
Chinese Navy service's new nuclear submarines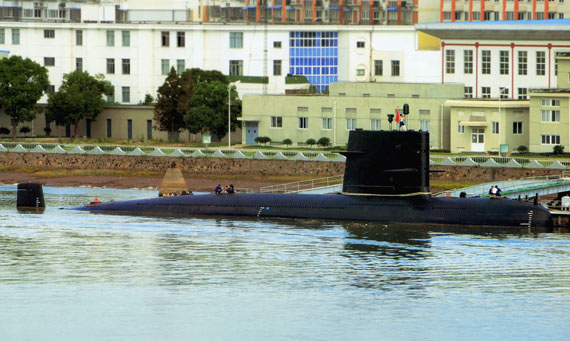 The article said that over the past decade China has deployed 38 new submarines
LONDON July 25 news: well-known conservative think tank American Enterprise Institute Senior Fellow Mr. Blumenthal recently in the United States testimony to Congress that the Chinese navy over the past decade at an alarming rate, almost an annual rate of 2.9 to deploy a new submarine; the contrary, the U.S. Navy's strength has been declining. As China has made the regional balance of power has changed, therefore, to restore this balance is the U.S. military services.
Mr. Blumenthal pointed out that China's naval modernization has gone beyond the most exaggerated prediction: Over the past decade, China's annual rate of 2.9 to deploy the 38 new diesel-electric and nuclear submarines. In addition, China has not only bought four Russian "modern" class destroyers, and has deployed nine new-made destroyers and frigates – these ships are equipped with deadly anti-ship cruise missiles.
Mr. Blumenthal describes that, so far, the PLA has deployed more than 1,000 ballistic missiles, and is also developing a re-entry equipped with easy to operate tool for land-based anti-ship ballistic missile flight , while the main purpose of this missile is movable against the U.S. surface ships, including the U.S. military force projection of carrier battle groups. Mr. Blumenthal said: "Since the early Cold War years, I have never seen such a pace as rapid Chinese naval forces. And we have never experienced before the Navy to attack moving targets at sea ballistic missile threat, so that 'China is planned to expand its regional strategic space' argument is undoubtedly correct. "
Mr. Blumenthal said, while rising naval power in China while the U.S. Navy's combat capability has been decline. He said: "China's navy with its dozens of new submarines, and we unloaded their own submarine reduced 25 or so and more importantly, the Chinese people have noticed this imbalance, and hope to continue our naval capabilities decline. "In response, Mr. Blumenthal explains that the Chinese National Defense Strategic Institute, Rear Admiral Yang Yi, has pointed out that the submarine manufacturing, China has five times more than the United States – U.S. submarines are permanent Pacific 18, while the number of Chinese submarines was 75 or more (this is only the U.S. point of view). Yang Yi that, while U.S. ships were still outstanding, but the quality gap between the two ships is gradually reduced. Moreover, by this gap, the U.S. fleet will be difficult to understand China's development.
Mr. Blumenthal said that Mr. Blumenthal has called Enterprise Institute, where a group of security and military experts in Washington for "four annual defense review" before it on the U.S. global military needs of the detailed and comprehensive inquiry. Among them, the U.S. forces in the Asia Pacific region demand survey: U.S. defense strategy in the Pacific region should not only focus on the possible fight. As China has made the regional balance of power has changed, therefore, to restore this balance is the U.S. military services.
Mr. Blumenthal said, let U.S. forces in the Pacific region needs to achieve conceptualization, we must consider the existence of stronger, more powerful combat troops to deal with possible conflicts. Then, Mr. Blumenthal for a detailed description of the former. He said: "Since the beginning of the 20th century, the size of the U.S. fleet has never achieved such a small degree, although we have strong capabilities and excellent crew, but considering the vast Pacific Ocean waters, has become the largest fleet size problem, and, in addition to maintain the regional balance of power, the United States armed forces stationed in the Pacific and many other tasks: the army and his country partnerships, implementation of natural disaster relief and the fight against pirates. "
large Bu Turning to China in the Navy in the Pacific region needs, said: "China may increase the number of fast-attack submarines to maintain in the East China Sea, South China Sea and the Sea of ??Japan persistent. and we need more submarines to protect their aircraft carrier battle group, to monitor the Chinese submarine patrols, conduct intelligence, surveillance and reconnaissance (ISR) operations. In addition, we also need some underwater sensors. "
Mr. Blumenthal said that the U.S. missile and fleet defense and not enough to cope with China's growing ballistic missile and innovation over the horizon targeting system. He said: "If you want to maintain the aircraft carrier deployed in the front, we need to spend more and more energy to protect them." Mr. Blumenthal added, effective way to protect U.S. maritime assets, including: deployment and tracking radar satellite launch probe connected system at the front can be maintained long-term ballistic missile defense ships, with ships at risk to real-time instructions and report the location of incoming anti-aircraft missile intelligence capabilities.
Mr. Blumenthal said that, although we need a layered missile defense system, but most want to remove these threats are still directed energy weapons, especially anti-ship ballistic missile (ASBM). Moreover, the more advanced coastal combat ship is expected in coastal areas to maintain a strong anti-submarine and anti-surface warfare capability in the process, play an important role.
Mr. Blumenthal pointed out, if necessary, which can provide help for the U.S. military. If the U.S. need to send more aircraft carriers to the Pacific region, enhance its ability to survive the measures will make them more effective. He said: "The more powerful anti-submarine warfare capabilities will provide us with more freedom of movement. In addition, we also emphasize the viability of a fixed base on land, we should set the country in those more friendly logistics center, ensure that our air bases in the region can be increased rapidly. And we must also ensure adequate own stealth fighter and tanker aircraft to perform some of the most complex task, but have encountered before. "
Bu Danian said, now the United States is standing at a strange position: "The Obama administration in carrying out its" four-year defense review "before it announced its defense budget and I would urge the Congress to ensure Obama Defense Review is not just the government's budget cuts go only to the transitions. "
Mr. Blumenthal concludes:" I firmly believe that everyone knows that we can keep their promises, then our diplomacy can achieve successful and Asian countries will be able to enjoy more peace and prosperity, we must be old American statecraft 'warm words in the mouth, stick in hand' (Speak softly and carry a big stick) ". (Compiled: Spring)