Experts said if the United States experienced aerospace Pearl Harbor attacks will completely fall
Date:2011-09-03
Author:admin
Category:International military
Comment:0
data for: U.S. strategic bombers launch spacecraft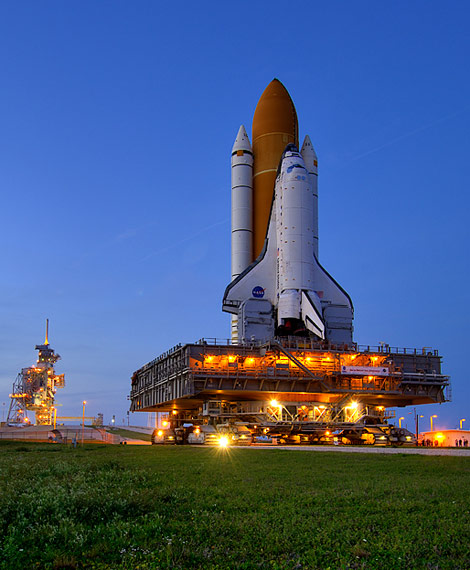 data for: the space shuttle Discovery prepared for launch

Data Figure: China's Shenzhou VII spacecraft transitions. Left photo
spring race in the United States special correspondent newspaper Wen Yan
19, Japan's Kyodo News reported that the U.S. National Aeronautics and Space Administration (NASA) officials, the United States agreed to convene in the near future in the United States space cooperation between the second working meeting, and agreed to hold the next regularly-related talks. Achievements China has made space for the U.S. aerospace industry is not only heard of "cooperation" sound, "Global Times" reporter recently invited to participate in several U.S. aerospace experts to participate in a workshop, they feel that China and other "competitive opponents' progress to the United States to bring a strong shock. U.S. experts said the meeting even if you do not take action, "Pearl Harbor, the United States will be wiped out in space, completely occupied."
made the remarks in the United States Institute of Advanced Aerospace expert Sheldon. 16, he retired officer with the Air Force James, Eisenhower Center for Space and Defense, deputy director of Hayes, who was invited along to participate in well-known Chi Ku Qiaozhi Marshall Institute in Washington and the U.S. Chamber of Commerce Space Enterprise Association jointly organized the "no space , national security and the economy will face consequences "seminar.
Sheldon said at the meeting: "We need space diplomacy, space needed to form alliances with other countries, or even an alliance with its competitors." He said that the world is being re-shuffling between the space powers, China, Britain, Nigeria, Brazil, the Philippines, Chile and many other countries and other countries established a strategic partnership between space, work to build strong business competitive advantage. The United States also "should stop talk, act now." Sheldon complained about the U.S. space policy-making process, "so slow, space experts not only neglected, but also the same as the football was kicked." He said: "In the past geopolitical competition is armed combat, and now is the day of military operations, who occupied the space, whoever occupied the highest ground, and then occupied the world the U.S. is currently leading the world still does not mean forever, If we do not attach importance to space development, with the rest of the world is not an alliance partnership in the future will pay more. "
in the United States, concerns about the progress of China's space for a long time, the "seven gods" mission success that such doubts rampant. U.S. aerospace industry seminars held frequently, and even heard the "U.S. Congress appropriated $ 5 million to restart the Star Wars plan to deal with China's potential threat," the message. "Global Times" reporter recently participated in a seminar organized by the U.S. Heritage Foundation, also heard experts talk about the Chinese space straight to the point to the threat, saying that "China's space success means the failure of the United States", as well as experts in China with emotion aerospace engineers generally young, talented people, while the United States lean ".
Wednesday, India will launch its first lunar probe a, the Indian advances in space, the United States quite a lot of attention, but and treatment, unlike China, the United States in the field of aerospace has given India a lot to help India's lunar probe to be launched there on the equipment the United States and Europe, India's first satellite is manufactured by the United States.
U.S. President Office of Science Policy senior policy analyst Damon told the "Global Times" reporter, the U.S. House of Representatives, the delegation visited China recently, on a certain understanding of China's space industry, he said, this line is a "search for truth Tour ", in order to allow U.S. lawmakers to see for themselves" there (China) in the event of exactly what "to eliminate unnecessary misunderstandings.
. otherContent_01 p {line -height: 23px; margin: 0px;} . pb {}. pb textarea {font-size: 14px; margin: 10px; font-family: "Arial" ; background: # FFFFEE; color: # 000066}. pb_t {line-height: 30px; font-size: 14px; color: # 000; text-align: center;}/* page */. pagebox {overflow: hidden ; zoom: 1; font-size: 12px; font-family: "Arial", sans-serif;}. pagebox span {float: left; margin-right: 2px; overflow: hidden; text-align: center; background : # fff;}. pagebox span a {display: block; overflow: hidden; zoom: 1; _float: left;}. pagebox span.pagebox_pre_nolink {border: 1px # ddd solid; width: 53px; height: 21px; line- height: 21px; text-align: center; color: # 999; cursor: default;}. pagebox span.pagebox_pre {color: # 3568b9; height: 23px;}. pagebox span.pagebox_pre a,. pagebox span.pagebox_pre a: visited,. pagebox span.pagebox_next a,. pagebox span.pagebox_next a: visited {border: 1px # 9aafe5 solid; color: # 3568b9; text-decoration: none; text-align: center; width: 53px; cursor: pointer; height: 21px; line-height: 21px;}. pagebox span.pagebox_pre a: hover,. pagebox span.pagebox_pre a: active,. pagebox span.pagebox_next a: hover,. pagebox span.pagebox_next a: active {color: # 363636; border: 1px # 2e6ab1 solid;}. pagebox span.pagebox_num_nonce {padding: 0 8px; height: 23px; line-height: 23px; color: # fff; cursor: default; background: # 296cb3; font-weight: bold ;}. pagebox span.pagebox_num {color: # 3568b9; height: 23px;}. pagebox span.pagebox_num a,. pagebox span.pagebox_num a: visited {border: 1px # 9aafe5 solid; color: # 3568b9; text-decoration: none; padding: 0 8px; cursor: pointer; height: 21px; line-height: 21px;}. pagebox span.pagebox_num a: hover,. pagebox span.pagebox_num a: active {border: 1px # 2e6ab1 solid; color: # 363636;}. pagebox span.pagebox_num_ellipsis {color: # 393733; width: 22px; background: none; line-height: 23px;}. pagebox span.pagebox_next_nolink {border: 1px # ddd solid; width: 53px; height: 21px; line-height: 21px; text-align: center; color: # 999; cursor: default;} Previous 1 2 3 4 5 6 7 8 Next