Home
»
China military
» Japanese media have speculated that China refused to stop in Hong Kong on the reasons for the fleet (Figure)
Japanese media have speculated that China refused to stop in Hong Kong on the reasons for the fleet (Figure)
Date:2011-09-02
Author:admin
Category:China military
Comment:0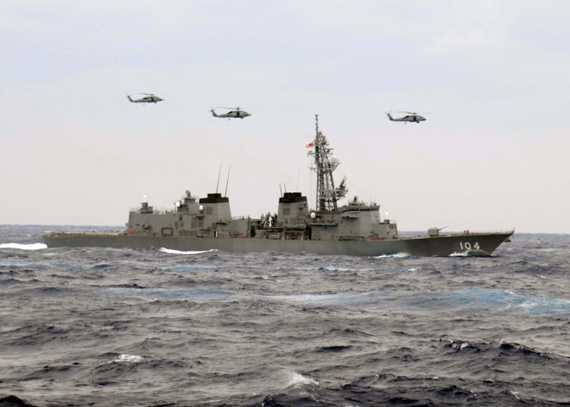 Data Figure: Japan Maritime Self Defense Force ships to participate in the Japan-US joint military exercises
" International Herald Tribune "correspondent Jin Wei, sinus morning from Beijing August 16, Japanese media reported that" Japan's Maritime Self-Defense Force Chinese warship's proposed visit to Hong Kong was refused, the official reason for the objection is not China. "The report quoted analysts pointed out that the person concerned, which is" President of World Uyghur Congress, "Kadeer's recent visit to Japan and Taiwan" former president "Lee Teng-hui's visit to Japan on.
to verify the authenticity of the story, the reporter made the same day in a message published in the Japanese embassy officials, the Japanese Information and Culture Center Embassy Second Secretary Tel West Chun also told the "International Herald guide News "on the matter" is being coordinated in ", in addition to the Embassy no other information media. Chun also said that the West did not visit the Chinese side the issue has been rejected.
According to "Asahi Shimbun" reported 16 from Shanghai, said the training ship "Kashima No.", "Snow Island" and the frigate "evening fog signal" composed of ocean-going naval navigation training fleet, carrying 170 cadres, including a total of 700 students, including school personnel, set sail from Tokyo in April, originally scheduled to Southeast Asia, the Middle East and Europe, 13 countries visited back in early September after the exchange date.
reports that did not stop to visit Hong Kong in the original plan, "but Japan and China have been making on defense exchanges and to the Chinese expressed interest in late August to early September to visit Hong Kong to stop, to enhance both military exchanges. "
However, the report said," China has 12 replies Japanese Embassy, ??said that due to sensitive issues, and the atmosphere is not suitable for ships calling at Hong Kong agree on, it is difficult to accept. "
we all know, the way U.S. and British warships to visit other countries often call in Hong Kong, has almost become a norm. But since the end of World War II, Japanese warships had never appeared in Hong Kong harbor.
recent years, Japan and China increasing military exchanges in 2007, the Chinese Navy's "Shenzhen" missile destroyer and the first visit to Japan in June last year, as a return visit, Japan's "ripple" frigate Zhanjiang, Guangdong Province to visit. In March, Japanese Defense Minister Yasukazu Hamada's visit to China, bilateral military exchanges increased gradually. But compared to China and the United States and other countries, military exchanges, defense exchanges in Japan, or appears to be more cautious and sensitive.
motives for visiting Japan, China Academy of Social Sciences researcher Wu arms in Japan to accept the "International Herald Tribune" interview analysis, Japan and the United States and other countries wish to acquire the same exchange position, "If able to stop in Hong Kong, or deemed to be among the same level with the United States and other countries an important symbol. "
great atmosphere of Sino-Japanese relations improved, but the sensitivity remains the fact can not be ignored. Wenchuan after the earthquake last year, Japanese media have reported that Japan's Self-Defense Force hopes to send military aircraft transporting relief supplies to China, Chinese people has caused resentment. Call Hong Kong for the Japanese fleet with the intention concerned, analysts pointed out that Japan has hoped in recent years resulting in self-defense Self-Defense Forces to go overseas Chinese to normalize the impression, "If neighbors are not against China, that Japan's Self-Defense Forces to go abroad more 'righteous'。"
visit Japan in the analysis of "denied" the reason, "Asahi Shimbun" quoted the official pointed out that China was dissatisfied with the end of July in Japan agreed to Kadeer's visit to Japan, and Lee Teng-hui visit to Japan in September, said the issue is not happy.
an unnamed analysts believe that China-Japan defense exchanges by the political climate in Japan, if Japan rejected the request, "Asahi Shimbun" analysis is not without reason. In addition, during World War II Japanese occupation of Hong Kong's history has been criticized by people of Hong Kong, analysts pointed out, the sun hanging flag vessels to visit Hong Kong, the capacity of the people is also a factor to be considered.
how Hong Kong's Phoenix TV political commentator Liang Liang told the "International Herald Tribune", the Hong Kong non-governmental organizations in a number of special days are held protest demonstrations against Japan, this is a normal thing. Japanese warship to visit Hong Kong if true, should not set off the civil society anti-Japanese actions.
recommended "International Herald Tribune" blog: http://blog.sina.com.cn/m/xqdb