Japan's missile intercept test failure may be due to failure of warheads
Date:2011-09-02
Author:admin
Category:International military
Comment:0
11 20 March, the Japanese Maritime Self-Defense Force " Bird Hai "Aegis destroyer in the U.S. state of Hawaii launched the waters near the island of Kauai" standard -3 (SM-3) "-type sea-based interceptor missiles. Xinhua News Agency/Reuters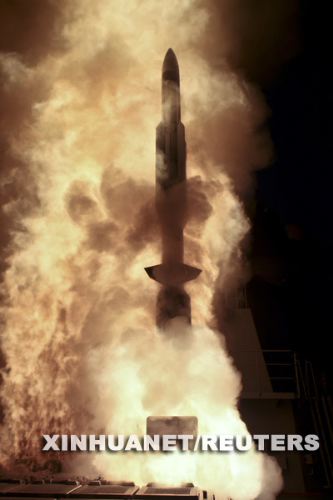 Japan Maritime Self Defense Force, "Sea Bird" number of Aegis destroyers in the U.S. state of Hawaii launched the waters near the island of Kauai "standard -3 (SM-3)"-type sea-based interceptor missiles. Xinhua News Agency/Reuters
BEIJING, November 21, according to Japan's Kyodo News reported that Japan's defense ministry announced Wednesday, the Japanese Maritime Self-Defense Force Aegis destroyer, "Sea Bird" in the U.S. state of Hawaii test the waters near the island of Kauai shot a sea-based interceptor missiles (SM3), but failed to hit the target, the test failed. The anti-missile test, Japan (MD) program. Japan's Ministry of Defense began the day co-operation with the U.S. anti-missile program investigating the detailed reasons for the failure to intercept test.
According to the Ministry of Defense said, SM3 missiles fired from Aegis ships to normal, but when you lose a few seconds before target intercept. December last year, "King Kong" was the successful implementation of Aegis destroyers have been missile intercept test. Japan also plans to conduct two additional MD system alterations, the experiment failed plan may affect.
test local time at 16:21 on the 19th or so U.S. military bases in Hawaii. And the time is different, this trial did not target missile launch time informed in advance Aegis destroyers, and therefore more similar to actual combat, it is estimated interceptor missile failed to hit the target.
"Standard 3″ missile warheads equipped with infrared tracking the target part of the heat source device. Test failure may be due to some faulty warhead.
Self-Defense Forces chief of staff integration (equivalent to chief of staff) Takashi Saito said at a press conference the same day: "Although the final failure of a critical moment, but finding the target to the track and firing is very smooth The whole system is working properly, but further details of the investigation. "
Japan's missile defense system is" the first near-Earth space after the "dual structure – the first by sea to deploy Aegis destroyers in the atmosphere SM3 place to intercept ballistic missiles outside of the circle, if not hit by the Air Self-Defense Force ground-based interceptor missiles foundation "Patriot -3″ (PAC-3) in the hit before the wreck. In September the Ministry of Defense has successfully test-fired a "Patriot" missiles.
. OtherContent_01 p {line-height: 23px; margin: 0px;} . Pb {}. Pb textarea {font-size: 14px; margin: 10px; font-family: "Times New Roman"; background: # FFFFEE; color: # 000066}. pb_t {line-height: 30px; font-size: 14px; color: # 000; text-align: center;}/* page */. pagebox {overflow: hidden; zoom: 1; font-size: 12px; font-family: "Arial", sans-serif;}. pagebox span {float: left; margin-right: 2px; overflow: hidden; text-align: center; background: # fff;}. pagebox span a {display: block; overflow: hidden; zoom: 1; _float: left;}. pagebox span. pagebox_pre_nolink {border: 1px # ddd solid; width: 53px; height: 21px; line-height: 21px; text-align: center; color: # 999; cursor: default;}. pagebox span.pagebox_pre {color: # 3568b9; height: 23px;}. pagebox span.pagebox_pre a,. pagebox span.pagebox_pre a: visited,. pagebox span.pagebox_next a,. pagebox span.pagebox_next a: visited {border: 1px # 9aafe5 solid; color: # 3568b9; text -decoration: none; text-align: center; width: 53px; cursor: pointer; height: 21px; line-height: 21px;}. pagebox span.pagebox_pre a: hover,. pagebox span.pagebox_pre a: active,. pagebox span.pagebox_next a: hover,. pagebox span.pagebox_next a: active {color: # 363636; border: 1px # 2e6ab1 solid;}. pagebox span.pagebox_num_nonce {padding: 0 8px; height: 23px; line-height: 23px; color: # fff; cursor: default; background: # 296cb3; font-weight: bold;}. pagebox span.pagebox_num {color: # 3568b9; height: 23px;}. pagebox span.pagebox_num a,. pagebox span.pagebox_num a : visited {border: 1px # 9aafe5 solid; color: # 3568b9; text-decoration: none; padding: 0 8px; cursor: pointer; height: 21px; line-height: 21px;}. pagebox span.pagebox_num a: hover, . pagebox span.pagebox_num a: active {border: 1px # 2e6ab1 solid; color: # 363636;}. pagebox span.pagebox_num_ellipsis {color: # 393733; width: 22px; background: none; line-height: 23px;}. pagebox span.pagebox_next_nolink {border: 1px # ddd solid; width: 53px; height: 21px; line-height: 21px; text-align: center; color: # 999; cursor: default;}
Previous
1
2
3
4
5
6
7
8
Next