Home
»
China military
» U.S. scholar says wartime Chinese fishing boats perform large-scale military mission
U.S. scholar says wartime Chinese fishing boats perform large-scale military mission
Date:2011-09-02
Author:admin
Category:China military
Comment:0
Data for: Chinese fishing boats and U.S. warships in the South China Sea confrontation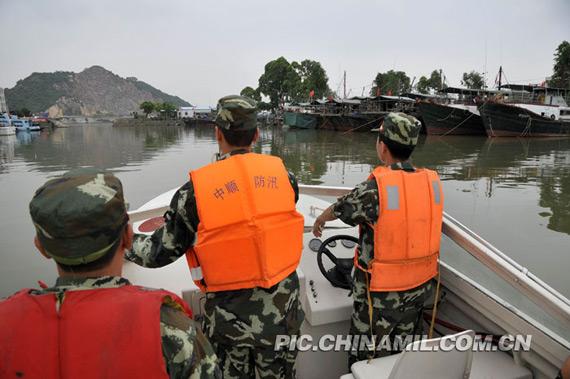 data for: the South China Sea fishing moratorium patrol boats armed police patrol the parking area by
trainee newspaper reporter/Weidong Xu
recent years, with China's growing maritime power, the rise of the Chinese navy, the shipbuilding industry development and continuous improvement of port facilities, and would have become the focus of media attention overseas. The U.S. Naval War College Strategic Studies Associate Professor 莱尔戈尔茨 Tan has yet paying attention to China's huge fishing fleet. Jamestown Foundation, he recently published an article website, not only for China's fishing fleet and the activities of the analysis, but also the so-called Chinese "fishing strategy" was speculation that a Chinese fishing boat engaged in fishing activities in addition to, or China National Security Strategy of the important part.
analysts said Goldstein, the development of the Chinese fishing fleet has too much reading to do, and his "liberation of Taiwan by the PLA to use fishing boats", says is nonsense.
that greatly increased the strength of Chinese fishing boats
Goldstein of Chinese fishing boats in the article expressed concern about the scale of development. He said: "When we focus more on the growing Chinese navy, shipbuilding and port facilities, it is easy to overlook the growth of China's maritime power, another point that China's fishing fleet tonnage in 2007, had reached alarming 17 million tonnes, far more than the United States, Japan and other Pacific Rim countries. "
Goldstein also particularly concerned about Chinese fishing activities. He pointed out that China's fishing fleet activities have not only a regional problem. China's huge fishing team has focused on activities in the western Pacific Ocean, but now the world's oceans can see their shadow. China in the 1980s began to build its team of ocean-going vessels, but by 2006, already has nearly 2,000 ocean-going fishing vessels on the high seas. According to official figures, China has about 297,937 motorized boats, about 800 million fishermen.
Goldstein's article also cited the so-called "authority" of the Chinese fishing statistics rendering "threat." He said in the article, any time, in West Africa the number of Chinese fishing boats operating in the waters could reach 300. The article quoted a theory that the Somali pirates issue is overfishing by external forces as a "byproduct", the Somali fishermen only "another way of living." Thus, the article falsely said, "Chinese fishing boats fishing practices may increase African food crisis and other countries."
rendered against foreign vessels fishing China
Goldstein addition to emphasizing the large-scale Chinese fishing boats, but also on a Chinese fishing boat "special purpose" was speculation. Goldstein believes that the growing scale of Chinese fishing boats, not only for fisheries environmental considerations, there are behind the foreign policy and national security considerations. He called on U.S. policymakers not to ignore the growing Chinese fishing fleet. The article said that China most likely deployed in its exclusive economic zone or fishing without weapons against foreign vessels fishing enforcement vessels.
article points out, in 2009, the Chinese fishing boats and fishery enforcement vessels to become the world's headlines with increasing frequency and more. U.S. surveillance ship in March with "no time" of the conflict, while several Chinese trawler, two law enforcement vessels and at least one Chinese warships, with the "no time" for the "containment" and "interference", and This is just a series of dangerous events of the conflict at sea. Since then, China's largest fisheries enforcement vessels – "fishery 311," began a long cruise in the South China Sea.
the end of June this year, broke out between China and Indonesia, fishing disputes. Indonesia was seized eight fishing vessels and 75 Chinese fishermen, the fishermen in Indonesia claimed that its "exclusive economic zone" within the fishing is illegal. Goldstein maintained that the fisheries dispute also exacerbated the risk of military conflict.
nonsense "sea militia" shock and awe Taiwan
Goldstein believes that a Chinese fishing boat in addition to safeguarding national sovereignty, but also directly involved in military operations, and which play an important role. He said that China's large-scale fishing fleet has been compiled into the sea militia. If war broke out, these vessels can provide support, not only can carry troops across the Taiwan Strait, but also long-range mine. A surprising number of these vessels is sufficient to shock opponents.
Although the scale of Chinese fishing boats Goldstein and scope of activities is very worried, but he also acknowledges the Chinese fisheries management and enforcement capacity with the developed countries there are still some gaps. This shows that his analysis is purely speculation, is clearly incompatible with the actual situation. He said the U.S. and Japan's, China lacks the Coast Guard maritime law enforcement as a unified force, although the government has taken some measures, but the effect is still obvious.
with Chinese scholars pointed out that fisheries enforcement vessels escorted fishing boats have the responsibility, but not equipped with weapons, and the Marine Police although equipped with various types of weapons, but has limited powers, only to support the roles. Goldstein speculated that the future of China's maritime law enforcement capacity will be further developed, may be the direction to the reunification of the Coast Guard.
news analysis/ANALYSIS
expand the scale of Chinese fishing boats reasonable
made against Goldstein "Chinese fishing boats expansion" theory, some analysts have pointed out that with China's economic development, Chinese fishing scale is reasonable. Chinese fishing boats in the ocean have a much better management rules and regulations, and developed a corresponding "fishing" system, the protection of fishery resources. As for Goldstein's "Chinese fishing boats to grab someone else's rice bowl", is based on hearsay evidence, the lack of factual basis. As we all know, China has always respected the sovereignty of other countries in Africa, more emphasis on "win-win", has won the appreciation of African countries.
Goldstein mentioned that a Chinese fishing boat "military purposes", in fact, this is no surprises. As we all know, the United Kingdom in the British A "Falklands War" on the acquisition of a large number of civilian vessels to transport troops and war vessels are often involved in national mine drainage fabric task. With the warming cross-strait relations, the so-called "war across the Taiwan Strait" has increasingly become a pseudo-proposition, the PLA used the liberation of Taiwan fishing boats will be more irrelevant. (Weidong Xu)