Home
»
China military
» EOD robots and other hi-tech security equipment appeared Games (Photos)
EOD robots and other hi-tech security equipment appeared Games (Photos)
Date:2011-09-02
Author:admin
Category:China military
Comment:0
explosives disposal robot unveiled Source: People's Armed Police News

armored terror Source: People's Armed Police News

Gong Nushou shoot with great precision Source: People's Armed Police News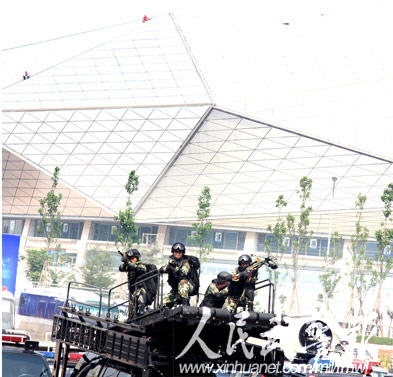 anti-terrorism assault vehicle Source: People's Armed Police News
"People's Armed Police News" (Xie Guojun) August 13, armed police detachment in Qingdao, the venue of the Eleventh National Games, "Diamond" stadium, organized a real anti-terrorism military drill , EOD robots and other high-tech equipment following the 2008 Olympic Games security again after a great debut.
as Beijing, Qingdao Olympic sailing venue, known as the "Sailing Capital." Eleventh National Games will be held in Qingdao, Division 12 project competition, is the largest event the contractor sub-Division. Also, because the events from April until October, Qingdao Division also match the longest sub-Division. Qingdao, People's Armed Police Detachment event security for the successful completion of the task, focusing on major anti-terrorism training exercises and rising anti-terror officers at the sudden ability to focus on casting, "sails are sword."
focus of this exercise requires the Games security tasks, supposedly all kinds of unexpected situations, focusing on emergency driving, anti-terrorism group formation and movement, sign language, combat command, special operations fell to capture subjects such as the training , effectively promoted the officers and soldiers in the complex conditions, unfamiliar environment, the ability to respond to emergency situations, and cooperation between officers and soldiers, tactical applications, quality, comprehensive mental capacity has been significantly improved. Officers and men who have said, should be based on their own efforts to improve military skills, first-class standard, first-class quality, for the successful convening of the Eleventh National Games to contribute their efforts.