Home
»
China military
» People's Liberation Army Tiger Division 4 nights a forced exercise area reached 2,000 kilometers
People's Liberation Army Tiger Division 4 nights a forced exercise area reached 2,000 kilometers
Date:2011-09-02
Author:admin
Category:China military
Comment:0
a main battle tank is through the town Liyun She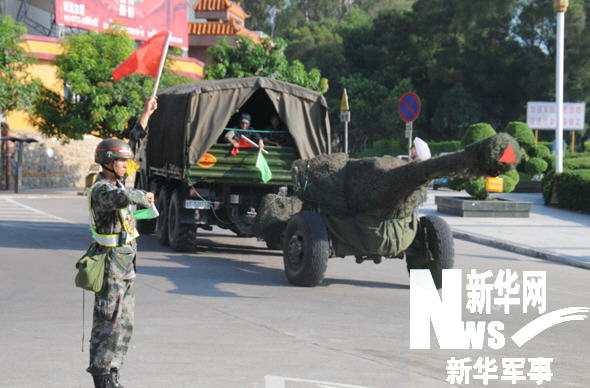 towed artillery through town Liyun She
Xinhua Guangxi Liuzhou August 22 (Xinhua Li Yun, Tan Eagle) in the last 4 days and nights of cross-range mobility in Jinan Military Region, "Tiger Division" 21 at 23 am successfully reach "beyond 2009″ exercise area – the Guangzhou Military Region, a tactical training base. At present, the related personnel and equipment have been launched in the exercise assembly area concealment and camouflage.
division starting at 6:00 on the 18th, in addition to the air transport some of the lightly armed troops, and railway tracks loaded with large weapons, the majority of forces troops in three columns, motorized entered arrive exercises build more than 2,000 kilometers region, on the way to create a military organization the first time in the Yellow River main flood season of heavy equipment to cross the river, motorized infantry regiment formed into a one-day march 916 kilometers of two new records.
continued hot and humid in the southern climate, the troops have accomplished director, set set up the Yellow River pontoon bridge, the mobile command and control, day and night, forcing dozens of military exercises and other subjects, night time march 40 %, arrived two days earlier than expected the designated area.
According to the "Tiger Division" commander Hu Wu Shuai, during the remote mobile prominent feature of the previous set of virtual "enemy" into a real all subjects: in the exercise against the "enemy" low reconnaissance, there will be "enemy" really flying, aerial reconnaissance of the ground situation, reported the director as a judge according to the Ministry; in the exercise, "the tractor tire puncture" situation, the repair site must remove the flat tire, replace spare tire disposal be considered finished.
Jinan Military Region, "Tiger Division" is to participate in "Beyond 2009″ actual military exercises of the second test of support troops. Lanzhou Military Region, 2,400 km long-range mobility division, has arrived in Shenyang Military Region in advance tactical training base. Were attached to the Guangzhou Military Region, Shenyang Military Region of the two army divisions will soon went to the appropriate exercise area.
related topics: the first four military joint military exercises