Home
»
China military
» I third formation in the Gulf of Aden to escort merchant ships onboard security (Photos)
I third formation in the Gulf of Aden to escort merchant ships onboard security (Photos)
Date:2011-09-02
Author:admin
Category:China military
Comment:0
8 月 21 evening, carrying four commandos" Zhoushan " ship-borne helicopter to the ship, "Wei Yuan" was the implementation of the onboard security merchant. Xinhua News Agency reporter Guo Gangshe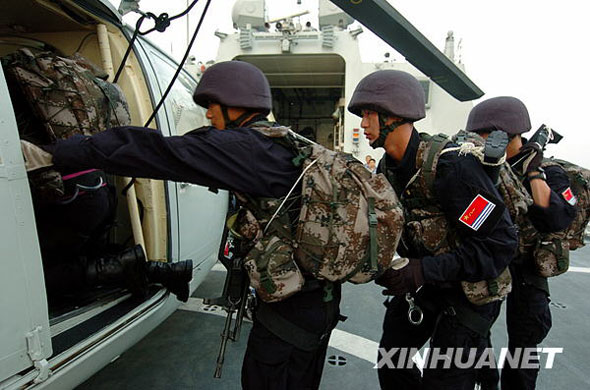 8 21," Zhoushan "ship features four heavily armed War players are prepared to implement the onboard security check. Xinhua News Agency reporter Guo Gangshe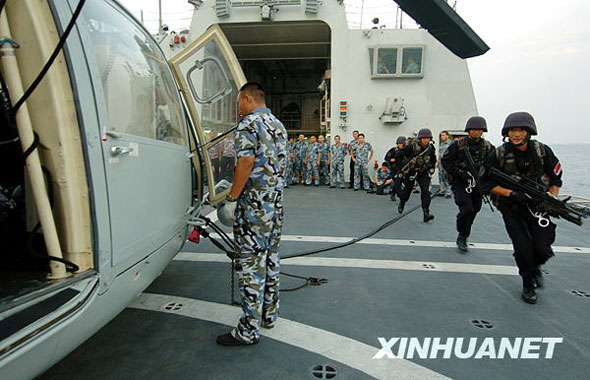 This is the "Zhoushan" ship four heavily armed commandos are ready to check implementation of the onboard security. Xinhua News Agency reporter Guo Gangshe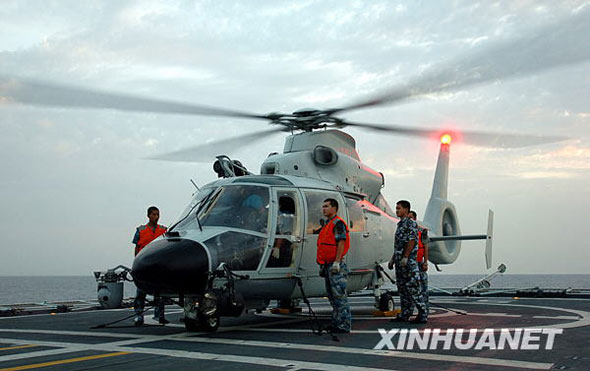 8 21," Zhoushan "ship-based helicopter carrying the four commandos are preparing to take off," Wei Yuan "was the implementation of the onboard security merchant. Xinhua News Agency reporter Guo Gangshe
Xinhua Gulf of Aden on August 22 (Reporter Guo Gang) local time at 18:15 on the 21st (23:15 GMT), the third batch of Chinese naval fleet escort "Zhoushan" ship in the Gulf of Aden perform batch of 97 Chinese naval escort mission, the use of shipborne helicopter four commandos, Zhoushan City, Zhejiang Province, Wei Feng went Shipping Co., Ltd. "Wei Yuan" was merchant, the implementation of the onboard security, lifted 26 crew members on board the safety concerns.
At that time, the western waters of the Gulf of Aden late sunset photos, small waves breeze. Deployment in the fleet under the command post, carrying the four heavily armed commandos "Zhoushan" ship-based helicopter into the sky, wandering in the nearby waters of non-stop, "Wei Yuan" No. merchant.
"Wei Yuan" No. Master Mariner Chen Min, told reporters that the ship full of goods, can only maintain a slower speed sailing in the Gulf of Aden, the Somali waters are vulnerable to pirate attacks.
"We started from 19 wandering in here, and has been waiting to escort ships. Well now, there is our country's naval commandos as we sail, we can sleep a sleep of peace of mind." Chen Min said.
reporter learned that, in addition to the onboard security of "health far" merchant number, the number of escort ships which also includes "Zhenhua 25″ number, "Taixing" number, "Peng as" No. and "Aidi Nord" was four merchant ships.
related topics: Chinese naval escort to Somalia waters