Home
»
China military
» Russia 34 transport aircraft and four arms tanker contract at a standstill
Russia 34 transport aircraft and four arms tanker contract at a standstill
Date:2011-09-02
Author:admin
Category:China military
Comment:0
Data Figure: Russian Il-76 transport plane flying through the air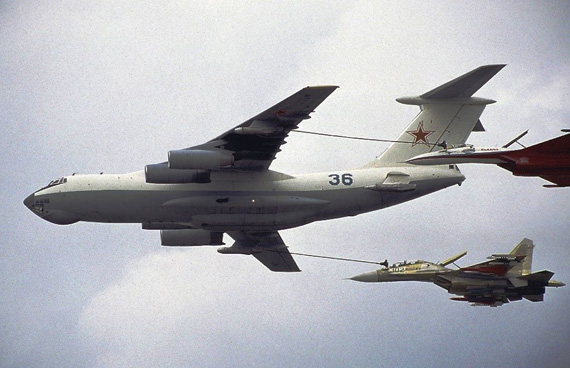 data for: Il-78 tanker aircraft in the air for the grant of oil
student newspaper reporter/Tangen Hao newspaper special correspondent/Guo Xuan
Rosoboronexport General Manager of Yi Se Jin has said that Russia will be whether China imitation Su-27 fighter planes to investigate. His words immediately become a "fuse", set off the Russian media hype China's "copy" of Russian weapons boom. At the same time, Yi Se Jin's deputy Mikheyev also revealed that between China and Russia on 34 large transport aircraft and 4 Airbus tanker contract, and now virtually at a standstill. Russian military technical cooperation in the bump problem, once again become the focus of attention.
speculation Chinese "piracy" Su -27
8 19, Yise gold in Moscow international air show to answer a reporter's question, referred to For China's "fake" Su-27 statement, and said it would have launched a thorough investigation. But he also stressed that the Chinese fighter in the shape of the "copy" the Russian Su-27 is to say, "That may be true … this is a very complex technical – 'shape' may be the same, but the setting is entirely internal another kind. may take months or even years of time to find out whether this is indeed a (Su-27) copies. "
Yise payments position very carefully, and reserve a lot of leeway, that Russia was not sure China's "Copy" Su-27. However, Russian experts and the media has "ignored" this important detail, but only the report focused on China, "Copy" Su-27, emphasizing the Russian experts have long predicted that by 2013 China has the ability to achieve the Su-27 "full clone", but the fact that the "intelligent Chinese people" to shorten the process.
Russia's "new politics" online magazine "News" and other media have reported that China has been able to copy the Su-27, that Russia sold to China in 1995, 200 Su-27SK fighter production license allow China to use Russian aircraft parts production J-11 fighter. But in 2003, China bought only 95 sets of J-11 parts, the remaining 105 units refused to buy. "News" said, J-11 fighters of the proportion of domestic production is rising.
military technology cooperation between the two countries have friction
analysts pointed out that the Russian media has been more than once speculation, "China 'cloning' of Russian weapons," the topic. "A week argument" magazine on May 14 this year, had reported that the Chinese military-industrial complex over the past 15 years has made a revolutionary breakthrough, now get Russian weapons immediately after the attempt to imitate. In addition to independent research and development of the Su-27 "clone" products, such as with domestic engines and radar systems of J-11B fighter series, also tried to produce their own S-300 air defense systems and ship-borne antiaircraft missile equipment and aircraft engines. "View report" on April 22 also made similar remarks.
recent years, the comprehensive cooperation between China and Russia continue to strengthen strategic partnership in the context of bilateral relations in the small twists and turns still emerging, military-technical cooperation is constantly bump.
8 19, the Russian defense export Mikheyev, deputy general manager openly admitted that Russia's exports to China and the Il-76 military transport aircraft Il-78 aerial refueling tanker contract has been at a standstill . Although the contract back in September 2005 had been signed, but due to IL-76 is responsible for assembly of Uzbekistan Tashkent Aircraft Factory turn to Russia's inability to perform the contract, Russia had to postpone the delivery time, and tried to put the contract in the Russian territory of the Ulyanovsk aircraft factory implementation. However, the plant simply can not do in 2010, the production of preparations.
three major factors leading Russian fire policy
In fact, for lucrative foreign orders, the Russian defense industry enterprises has always been very important. After the disintegration of the Soviet Union's lack of defense orders from China and India, large orders, has become a major pillar of the Russian defense industry enterprises. Then, the field of military technical cooperation between China and Russia, why would often friction it?
should be said, including a variety of factors. First, due to historical and political conditions and real economic conditions, the Russian military industrial system, there is a very prominent reality. In Soviet times, military industrial enterprises to improve the confidentiality and anti-blow of the Moscow implementation of the "whole nation military" system, the various components of large-scale equipment scattered around manufacturing in the Soviet Union, which led to Russia's lack of control over the export of manufacturing equipment, not scheduled to perform with the Chinese military transport aircraft Il-76 and Il-78 tanker is proof.
Second, some officials and the Russian people, still hold the "China threat theory" point of view, so with the Chinese military-technical cooperation, have a deep "alert" psychological. China's national defense needs of more advanced weapons and technology, but Russia has always had reservations, and in the export of weapons technology to block, sometimes even the use of technological advantages for "blackmail" Russia refused to export to China 10-12 Su-33 carrier-based fighter is an example. Russia hinted that China must purchase 50 or more, or it must start from scratch to develop its own aircraft carrier.
Third, international factors also affect Russia's arms export policy. Some analysts believe that the reason why Russia announced the so-called "China's 'cloning' Su-27″ investigation, was due to India's diplomatic pressure. India is Russia's most important military-technical cooperation partners. While China and India's "sworn enemy" of Pakistan close to the Pakistan India worried about China a threat to its aircraft.
Links/LINK
military technology cooperation friction does not affect the Sino-Russian relations
analysts pointed out, complex and sensitive military-technical cooperation, involving a very broad level, so some bump inevitable. But the overall direction of development, these problems do not affect the deepening of bilateral military cooperation.
UN Security Council permanent members China and Russia are in many major international issues, they have held the same position. In addition, the two are the Shanghai Cooperation Organization member states in safeguarding regional security and combating terrorism, extremism and separatist forces in the field, has a very wide range of common interests. Not long ago, the two countries successfully held the "Peace Mission 2009″ joint military exercises, China and Russia are the results of the exercise of the significance and gave a high evaluation.
Russian First Deputy Defense Minister and Armed Forces Chief of Staff Makarov general stressed that the Russian side hopes the two countries in the field of cooperation and exchange on the basis of mutual trust and expand. (Tangen Hao)