Home
»
China military
» Lanzhou Military Region, the Yellow River pontoon units within half an hour from the pontoon shelves
Lanzhou Military Region, the Yellow River pontoon units within half an hour from the pontoon shelves
Date:2011-09-02
Author:admin
Category:China military
Comment:0
pontoon bridge erected across the Yellow River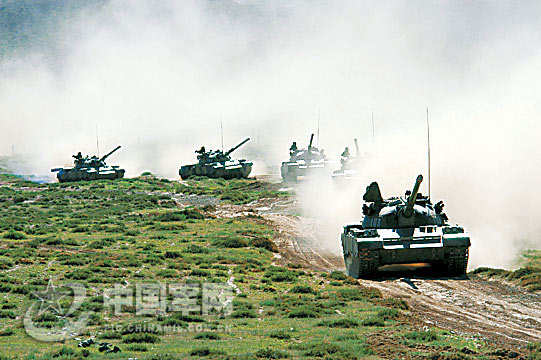 depths of the grassland where armor gallop
Kuang Yang Yang Guoning newspaper correspondent Hou Guorong
resounds Song of the Chariots, a mighty Helan.
8 months late, the Lanzhou Military Region, a Red Army division million 1,000 vehicles, soldiers, scores of road, by road, rail, air night and day, thousands of miles away to the implementation of a three-dimensional geographical mobility exercises.
× × × × time points, leading to the front of the Yellow River Bridge is the "enemy" to blow up, move troops blocked. Heard so moving, I saw the bear crossing the pontoon bridge engineering support tasks before the unit was ordered emergency set up pontoon … … less than half an hour, puts up a bridge cross the Yellow River, troops successfully crossed the Yellow River.
× × × × time points, the "enemy" in front of the teacher must pass through sections of the implementation of mobile firepower, the road is severely damaged. "Bridge engineering unit immediately before the bridge." At this point, Commander Wang Haijiang radio came the command.
smoke in a vehicle fire at a higher level land bridge under cover car fast approaching destruction of roads. Lift, drop, stretch … … dozens of operator within 20 minutes, successfully set up a load in the gully above 30 tons, 60 meters long steel bridge, the team Rulvpingdi quickly through the … …
Along the way, grab the division crossed the Yellow River natural moat, through the Tengger Desert, camping desert wasteland, disease into the prairie hinterland, has cracked more than 80 mobile operations of new equipment problems, fighting capacity building to achieve a new leap.
ability to meet all terrain capability, is a measure of the information under the condition of Army combat an important symbol. Reporters learned that the division for five consecutive days of full mobility with real equipment, across the northwest, northeast and other five provinces (regions), long-range strike distance of 2,400 kilometers.
reported: The whole of the division's three-dimensional motorized equipment thousands of miles, from the length of time, motorized, motorized and geographical distance choice, more than any of the previous exercise. Through this exercise, they explored the organization and command units, mobile grouping, moving in Communications, march protection, the case disposal, integrated security, mobility management and other topics, there are a number of information under the condition of 10 newly installed by preparing and training methods similar to actual results inspection, but also explore 10 kinds of new equipment summed rapid mobility of the new method.
have _COUNT_ -bit user comments I want to comment
Related reading:
Photo: Lanzhou Military Region, the Red Army soldiers, 1,000 vehicles division million road miles mobility scores
Lanzhou Military Region, the Red Army divisions Marine assault vehicles, hundreds of cars blue attack positions
high Lanzhou Military Region artillery brigade in the Tengger desert shooting drills
Photo: Lanzhou Military Region, motorized infantry division full-depth three-dimensional attack blue
related topics: the first four military joint military exercise