Home
»
China military
» People's Liberation Army tanks equipped with the new parachute licensed production of Russian 30-mm cannon
People's Liberation Army tanks equipped with the new parachute licensed production of Russian 30-mm cannon
Date:2011-09-02
Author:admin
Category:China military
Comment:0
military equipment, parachuting new ZLC-2000 tanks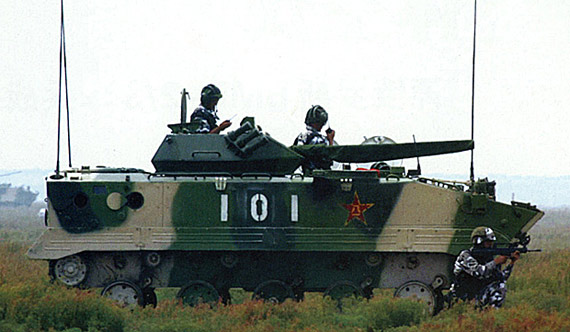 ZLC-2000′s" integrated turret combo module. " turret, fitted with a manufactured authorized by the Russian 2A72 30-mm cannon.
as China's most rapid reaction fighting force, the PLA airborne forces in recent years become available in a large number of new equipment, including both rapid movement and the ferocious firepower of the ZLC-2000 parachute tanks arousing great interest.
ZLC-2000 developed by the North Industries Corporation, the production number is WZ506. The first prototype vehicle ZLC-2000 came about in 2002, and the following year to enter the PLA, and also appeared in supporting K/STW-17 type vehicle drop system, which is a multi-technology from Russia umbrella umbrella drop system, which enables ZLC-2000 can take advantage of medium-sized or large transport aircraft airdrop deployment. Although the ZLC-2000 was initially thought to BMD-3′s "unauthorized", but a closer observation of the entire vehicle design and equipment, apparently into the more Chinese elements, and BMD-3 has a completely different layout and weapon systems of the body .
each Il-76MD transport aircraft can carry up to three ZLC-2000. Implementation of airborne operations, in order to protect the safety of personnel, ZLC-2000 and the crew was dropped separately, by contrast, the Russian military's BMD series allows simultaneous vehicle and crew airdrop operations.
ZLC-2000′s "integrated turret combination module" turret, with a production license by the Russian 2A72 30-mm cannon, with a 7.62 mm machine gun. Also in the top right of the turret is also equipped with a red arrow -73 anti-tank missile launchers. Each side of the turret is equipped with three smoke launchers.
2A72 type is a design with two-way for the cannon shells, the gun's total weight about 84 kg, muzzle velocity 960 m/s, the maximum rate of fire 330 rounds/min against armored targets effective range is 1,500 meters against light armored targets is increased to 2000 meters, the largest anti-aircraft range of up to 4,000 meters. According to the British Jane's Yearbook data, off shell in the 60-degree angle with the l500-meter distance can penetrate 25 mm thick steel armor. To conclude, 2A72-type machine gun should have good anti-armor capability. ZLC-2000 is also equipped with a red arrow -73 anti-tank missile launchers, the car has three Beidan. Red Arrow-73C with enhanced armor-piercing capability of the tandem warhead, and then with automated control systems, anti-armor capability be increased dramatically, and its warhead powerful enough to deal with plug-reactive armor of tanks, making the ZLC-2000 to fight the main battle tank . (According to "Shanghai Translation News" Cheng Hao/text)