India currently has four models of the missile with a nuclear strike capability (Photos)
Date:2011-09-02
Author:admin
Category:International military
Comment:0
India's strategic missile strike range of several schematic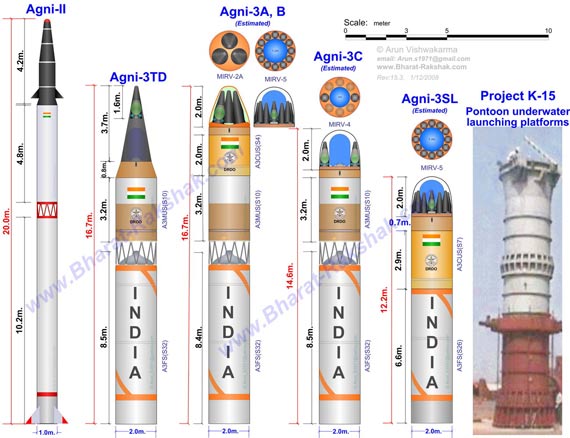 India's domestic missile development strategy model diagram

India in 1998 to deploy short-range" Prithvi I " (earth) ground-based nuclear missile force
: India has deployed and in development of ballistic missiles, there are four models with nuclear strike capability: 1998 to deploy short-range "Prithvi I" (Earth) missile ; short-range "Agni I" (Agni-I) and medium-range "Agni II" (Agni II) missile; "Agni III" (Agni III) missile is under development; and 2010 in 2009 to test the "Agni IV" ballistic missiles.
"Prithvi" (Earth) missile has three models of sea and air, constitute the main body of India's ballistic missile force, but only the "Prithvi I" (Army-type) by the U.S. CIA recognized as an executable nuclear combat missions. The missile is about 9 meters, 1 meter in diameter and weighs about 4,000 kg, a range of 150 km. The missiles are small and difficult to identify in flight if they load a nuclear warhead. The missile is currently deployed in India 333 and 335 missile regiment, but the specific deployment location unknown.
"Agni I" (Agni-I) is two ballistic missile test-firing range of 700 km, so far tests have been carried out six times, most recently in March this year, is expected soon will be fully equipped troops. Improved version of the missile "Agni II", a range of over 2000 km, carry 1,000 kg payload, can be deployed in the road or rail-mobile launchers. The missile test is only carried out three times, most recently in August 2004, the results are not satisfactory.
"Agni III" (Agni III) missile is a two-stage solid fuel missile, about 17 meters, diameter of 2 meters, load 50 tonnes, a range of 3,000 kilometers, can be deployed in the rail-mobile launchers . "Agni III" has been test-fired three times, first in 2006, ended in failure; the other two were in April 2007 and May this year, are successful. "With this missile, India can reach Shanghai." Indian Army Eastern Command spokesman said. Indian Defense Ministry sources, "Agni III" missiles will be delivered in 2009.
in the test "Agni III" at the same time, the Indian defense research and development organization started the construction of a range of 5,000 km, can reach Beijing's "Agni IV" missile. The missile is divided into three, composed of synthetic materials, the first test in 2009, 2010. Indian defense officials said in 2020 after 2015, India and the nuclear missile force will be mainly from "Agni-3″ and "Fire 4″ missiles pose, two missiles can carry nuclear warheads, in theory, can break the missile defense system. In addition, they can hit the target there are a variety of re-entry vehicle, but due to India's development of the "Fire 1″ and "Fire 2″ missile encountered technical and funding problems, the article says is not optimistic about re-entry vehicle . More importantly, with the missile missile re-entry vehicle, with India, the so-called minimum nuclear deterrence strategy completely contradictory.
sea-based nuclear forces: For "Trinity" nuclear strike force, India is developing at least two sea-based nuclear weapons systems – "Dhanush" ("bow") and "Sagarika" ("Ocean") missile system. In April 2007, "Dhanush" sea-based ballistic missile successfully test-fired for the fourth time, is expected to soon be deployed to the army. However, the missile's range is only 350 km, which means that equipment is only approaching enemy missile warships shore, it may blow to the enemy land targets, and that he is very easy to lock and was attacked by the enemy.
according to U.S. intelligence information, "Sagarika" is mainly used for submarine-launched ballistic missile, a range of about 300 km. "Sagarika" Missile Revision A K-15, February 26 in the eastern port city of Visakhapatnam in India successfully test-fired. Media reports said the test firing range at 700 km. India's Defense Research and Development Organization, said the missile submarines will be equipped with advanced technology to the ATV above. The submarine has been launched 20 years of development work, reported that India plans to build five submarines. Coincidentally, according to the situation in the U.S. show that China might build five nuclear-powered ballistic missile submarine. In addition, Acura lease from Russia, India II class nuclear-powered submarines is expected to be delivered in September 2009.
cruise missiles, nuclear power: report, India has been vigorously developed in recent years, the "fearless" cruise missiles are also expected to conduct the first test in 2009. In 2007, India's advanced systems laboratory in Hyderabad, started to develop the medium-range land-attack cruise missiles. The subsonic cruise missile to a range of 1,000 km, is said to carry 24 models of missiles. India's media with the U.S. Tomahawk cruise missiles and cruise missiles in Pakistan Pakistan Boolean par. Report that the future will have nuclear cruise missiles also strike capability, and from the land, sea and air-based platform to launch multiple weapons. (Compass)
. OtherContent_01 p {line-height: 23px; margin: 0px;} . Pb {} . pb textarea {font-size: 14px; margin: 10px; font-family: "Times New Roman"; background: # FFFFEE; color: # 000066}. pb_t {line-height: 30px; font-size: 14px; color: # 000; text-align: center;}/* page */. pagebox {overflow: hidden; zoom: 1; font-size: 12px; font-family: "Arial", sans-serif;}. pagebox span {float: left; margin-right: 2px; overflow: hidden; text-align: center; background: # fff;}. pagebox span a {display: block; overflow: hidden; zoom: 1; _float: left;}. pagebox span.pagebox_pre_nolink {border: 1px # ddd solid; width: 53px; height: 21px; line-height: 21px; text-align: center; color: # 999; cursor: default;}. pagebox span.pagebox_pre {color: # 3568b9; height: 23px;}. pagebox span.pagebox_pre a,. pagebox span.pagebox_pre a: visited,. pagebox span.pagebox_next a,. pagebox span.pagebox_next a: visited {border: 1px # 9aafe5 solid; color: # 3568b9; text-decoration: none; text-align: center; width: 53px; cursor: pointer; height: 21px; line-height: 21px;}. pagebox span.pagebox_pre a: hover,. pagebox span.pagebox_pre a: active ,. pagebox span.pagebox_next a: hover,. pagebox span.pagebox_next a: active {color: # 363636; border: 1px # 2e6ab1 solid;}. pagebox span.pagebox_num_nonce {padding: 0 8px; height: 23px; line-height : 23px; color: # fff; cursor: default; background: # 296cb3; font-weight: bold;}. pagebox span.pagebox_num {color: # 3568b9; height: 23px;}. pagebox span.pagebox_num a,. pagebox span . pagebox_num a: visited {border: 1px # 9aafe5 solid; color: # 3568b9; text-decoration: none; padding: 0 8px; cursor: pointer; height: 21px; line-height: 21px;}. pagebox span.pagebox_num a : hover,. pagebox span.pagebox_num a: active {border: 1px # 2e6ab1 solid; color: # 363636;}. pagebox span.pagebox_num_ellipsis {color: # 393733; width: 22px; background: none; line-height: 23px; }. pagebox span.pagebox_next_nolink {border: 1px # ddd solid; width: 53px; height: 21px; line-height: 21px; text-align: center; color: # 999; cursor: default;} Previous 1 2 Next