Israel's defense minister said it might launch a ground offensive in Gaza (Photos)
Date:2011-09-02
Author:admin
Category:International military
Comment:0
air raid injured Source: BEIJING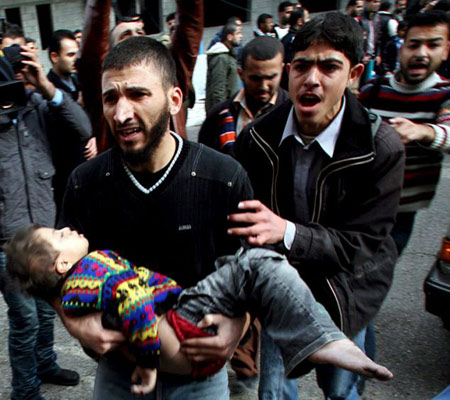 children injured in air strike Source: BEIJING
integrated media reports, Israeli warplanes and helicopter gunships, 27 of Hama Sri Lanka-controlled Gaza Strip launched a massive air strikes, air strikes have now killed at least 228 people were killed and 700 injured.
Israel launched air strikes destroyed the compound several Hamas police, the victims fell to the ground. This is the Palestinian people 20 years of the bloodiest encounter of the day.
Israel said the operation was to stop Palestinian militants in Gaza fired rockets to the south. Defense Minister Ehud Barak said Tuesday that, if necessary, army will launch a ground offensive in Gaza.
Hamas threatened to take action, including suicide attacks, including the violent actions of the army's air strikes in retaliation. Israel launched air strikes in the near future, Palestinian militants fired rockets at southern Israeli bombs. Medical personnel said one Israeli killed in rocket attacks, and two others slightly injured.
Palestinian National Authority President Mahmoud Abbas of the army's air strikes were condemned Israel's air strike was called "criminal acts", he called on the international community to intervene.
Egyptian Foreign Minister 27 televised speech, strongly condemned Israel's actions, called on Israel to immediately stop military action.