Home
»
China military
» Formation by reading the full preview of the air echelon team leader by the early warning unit
Formation by reading the full preview of the air echelon team leader by the early warning unit
Date:2011-09-02
Author:admin
Category:China military
Comment:0
pulled from the new early warning aircraft and a new smoke color to form an air fighter during the first echelon parade rehearsal. Zhongguang Wang correspondent Tao Hongxiang photo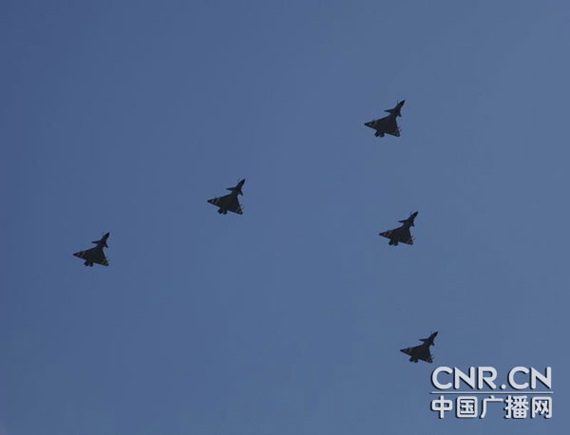 participate in a preview of the air echelon fighter group. Zhongguang Wang correspondent Tao Hongxiang photo
China news agency, Beijing, September 21 (Li Guowen and Tao Shelan) – 60th anniversary parade by reading all twelve air echelon of hundreds of aircraft, according to the National Day, 21 am the day by reading the program, successfully conducted the only time before the Tiananmen Square military parade formation over the full preview. The echelon formation rigorous, close convergence, magnificent, "m s not bad" to follow up over Tiananmen Square over.
60th anniversary parade by the Air Force dominated the air echelon, virtually every aspect of PLA active main battle models. The echelon formation formation varied, some two models, three models of hybrid formation. Air Force authorities said that this large, magnificent and highly aesthetic of the air fleet, regardless of aircraft size or number formation, more than century parade.
"m s not bad" is the air echelon to the stringent standards themselves. Air echelon personnel, said, by reading, the echelon to arrive at the scheduled time, as scheduled through Tiananmen Square, the error is zero seconds; echelon of the lead plane's fuselage to the vertical axis beyond the Tiananmen Square, the error is zero meters.
hundreds of aircraft around the same day as planned from Beijing after seven military airport flying in formation, as the leader of the Air Force AWACS NR machine in the first over time through Tiananmen Square as the Air Force eight security machine a demonstration team aircraft took over Tiananmen Square colored smoke.
period, consisting of an Air Force AWACS, a refueling machine echelon, a bomber echelon, consisting of a Navy fighter-bomber echelon, consisting of three Air Force fighter, land and air components of a search and rescue, transport Helicopter echelon, consisting of army aviation helicopters and a reconnaissance echelon followed by an armed helicopter Tiananmen Square.
Finally, China's first female fighter pilot flying trainer echelon form, color smoke took over Tiananmen Square.
According to Air Force authorities, during the rehearsal of the organization and command and implementation methods, the number of aircraft deployed, and the squadron echelon spacing, and length echelon time through Tiananmen Square, and by reading the same official, preview achieve perfect formation flying effect, achieve the desired results.
related topics: New Chinese sixtieth anniversary parade