Home
»
China military
» China has hundreds of Navy surface combat ships for more than three vessels (Figure)
China has hundreds of Navy surface combat ships for more than three vessels (Figure)
Date:2011-09-02
Author:admin
Category:China military
Comment:0
Data Figure: China's Navy landing ship fleet of new warships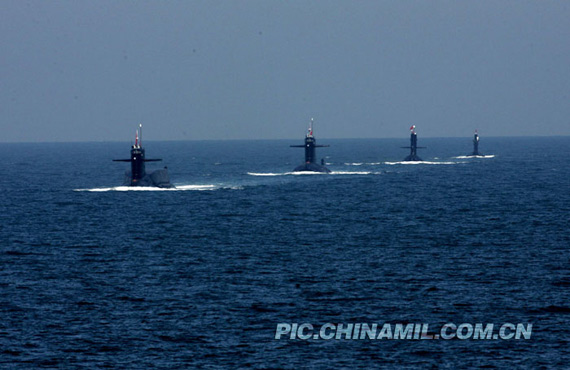 data for: Chinese Navy submarine fleet for inspection. Qiao Tianfu photo
Xinhua, Beijing, September 22 (Reporter CHEN Wan-jun, Wu Dengfeng) after 60 years of development and construction, the Navy, from small to large, from weak to strong, has become a force by the surface vessel , submarine, air force, coastal defense forces and the Marine Corps five arm, strategic, comprehensive, international military services, to become an effective performance to defend national sovereignty and security, safeguard China's maritime rights and interests to address a variety of security threats and accomplish diverse military tasks, with a dual nuclear and means of warfare in modern maritime combat forces.
modernization of naval aviation is an important part of the Navy. With the "Flying Leopard", anti-submarine aircraft, early warning patrol aircraft, aerial refueling, the third generation of fighters fielded forces, air force emergency mobile, ship-machine collaboration, air combat, low-altitude penetration, long-range attack, precision strike capability significantly increased, All cross-charged battle group can maneuver combat missions, perform combat duty, all pilots conducted missile firing training.
with the penetration capability stronger, smarter, longer range, anti-interference ability of the new generation of comprehensive shore-ship missile troops, naval coastal defense force to gradually become not only has to air defense, coastal defense ability, but also to effectively support the implementation of other branches of the military offensive of the new arms.
1979 Marine Corps was re-established by the armor, diving units, the Chemical Corps, amphibious commandos and other components. With the new amphibious tanks, armored vehicles and special equipment, fully fitted out, the Marine Corps to enhance the combat effectiveness has been many times in the army, navy and foreign organizations, large-scale exercises and joint exercises to demonstrate cutting edge, a veritable "land Tigers sea ??dragon. "
around large-scale naval battle equipment, multi-model development and deployment of troops of the new requirements, the Navy in the strategic direction and gradually formed a strategic homeport at the core of the shore-based support forces, fielded a large supply ships, hospital ships and rescue helicopters, the current Navy ships to protect the total tonnage of all types is the 1980s, six times the three-dimensional integrated offshore supply, ocean strategic projection capabilities has increased significantly.
with the national interest to expand and increase in non-traditional security threats, the Navy carry out diversified military operations with increasing frequency, ocean escort, maritime terrorism, sea rescue, sea maneuvering and strategic projection ability be tested and improved. In the new century, the Navy in anti-proliferation of weapons of destruction, air and sea access security and defense, humanitarian and other fields, and 37 foreign navies have conducted joint military exercises and drills; has sent 33 ships, 40 ships warships, visited more than 30 countries on five continents.
for the effective implementation of the new century, the historic mission entrusted by the state navy, naval weapons and equipment is key to speed up the pace of development of large surface combat ships, submarines, high-performance, large range combat aircraft, long-range missiles and other new generation of weapons and equipment. At the same time, the integration of maritime warfare training group, integrated command and other shore sea and air combat capability is steadily building.
sea surface ships is an important combat force. With the second and third generation guided missile destroyers and frigates, the new missile boats, large landing craft, minesweepers, ocean-going supply ship have the troops, now, the Navy 3 fleet has dozens of branch destroyer detachment, boat detachment, landing combat support ship-ship detachment and detachment. Three more combat ships hundreds of ships, tonnage was the 1980s more than 5 times. New warships comprehensive upgrading of carrier-based weapons. Spawned a large number of modern warships new training methods, tactics, each year hundreds of ships surface ships to sail the ocean seas, complete hundreds of training courses, integrated training has increased annually, markedly enhanced overall operational capability.
focus on development and construction of the Navy's submarine arm. The new century, new conventional submarines and nuclear-powered submarines have been armed forces. New submarines equipped with long-wave communication systems, data link systems, tactics and command automation systems and software, intelligent precision-guided torpedoes and missiles. Of a new generation of quiet submarines, underwater self-sustainability and viability has improved significantly, water penetration was significantly enhanced. Submarine underwater high-speed, long-endurance, penetration, deep mines and other training and operational methods to be tested.
related topics: New Chinese sixtieth anniversary parade