Indian MiG-27 upgrade on-board computer module with the same SU 30
Date:2011-09-02
Author:admin
Category:International military
Comment:0
Indian air force MiG-27 fighter-bombers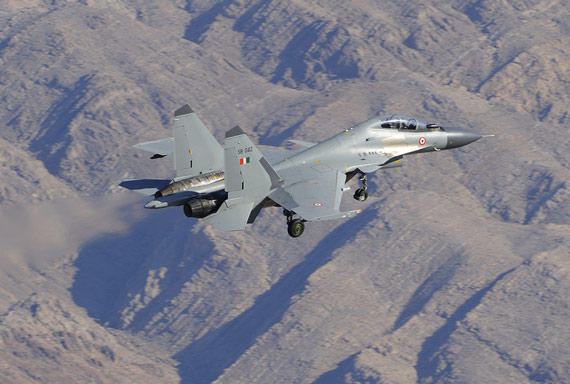 Indian air force is the strongest multi-purpose fighter Su-30MKI
China Network January 14 hearing, according to Itar-Tass reported that the Indian Air Force has successfully completed all of its active modernization of MiG-27 fighter-bombers of the upgrade. The improvement plan by the Indian Ministry of Defence Defence Research and Development Organization is responsible for implementation, the main purpose is to upgrade the aircraft's onboard radio system.
improvements launched in 2002. At that time, the Indian Defense Research and Development Institute, respectively, and defense avionics, Hindustan Aeronautics and the Air Force signed a memorandum of understanding with each other.
first aircraft to complete the upgrade of MiG-27 aircraft in June 2006, used with permission. After the Indian Air Force combat squadrons began to dress the improved MiG-27.
According to reports, Indian Air Force MiG-27 facelift of the radio equipment are based on one known as the "center of aviation computer" modular processing system. The computer used by the function module is also used in the manufacture of Su-30MKI fighter jets in the central computer.
improved MiG-27 is equipped with an integrated inertial navigation system and a new global satellite-guided device, making the pilots in a combat mission to more accurately determine their location.
order to provide the use of precision weapons systems, to accept the improved MiG-27 is equipped with a laser designator pod and a LPD LRMTS "laser rangefinder and target tracker."
pilots to improve access to information about the ability of battlefield intelligence, according to a MiG-27 has digital maps and a digital camera system, which the latter analysis to help pilots better perform tasks effect.
of India and former Soviet Union signed the authorization assembly contracts from 1986 to 1996, Hindustan Aeronautics assembled a total of 165 MiG-27ML fighter-bombers. (Spring)