Home
»
International military
» India's Phalcon early warning aircraft will be deployed in advance to receive the India-Pakistan border area
India's Phalcon early warning aircraft will be deployed in advance to receive the India-Pakistan border area
Date:2011-09-02
Author:admin
Category:International military
Comment:0
India to Israel ordered three Phalcon airborne early warning aircraft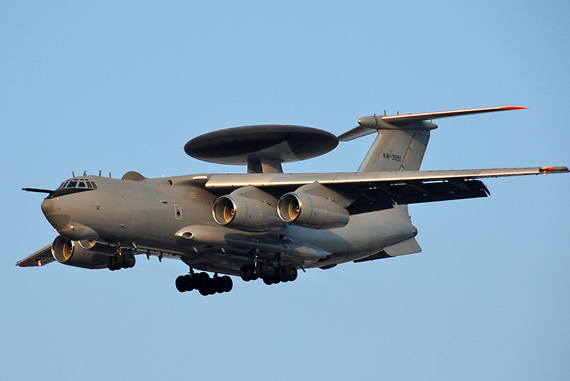 India's first aircraft from Israel, the introduction of "Phalcon" AWACS was January 11 India's defense arrived in India on net 13
carried an article saying, India's first aircraft from Israel, the introduction of "Phalcon" AWACS was ahead of January 11, arrived in the capital New Delhi. Terrorist attacks in Mumbai, India-Pakistan relations lead to a deadlock situation, the latest introduction of this aircraft, "Phalcon" early warning will become the Indian Air Force's force multiplier, causing widespread concern.
The article said that the Indian Air Force officials have confirmed the news. The sources said the AWACS aircraft from Israel after the start, do first stopover, finally arrived in New Delhi International Airport Palladio technical area. There, including the Indian Air Force Secretary Falimeijie including the Indian Air Force generals will examine the early warning aircraft.
It is reported that the early warning aircraft will be deployed in the northern Indian city of Agra Agra Air Force Base, constituted in India recently formed part of the AWACS squadron. The article said, "Phalcon" AWACS solid-state phased array radar EltaEL/M-2075 fixed radar dome above the fuselage, the aircraft can be around the 360 ??degrees of coverage, while the crew is responsible for analyzing the data collected and guide the aircraft.
alleged that the model will be used for air and ground targets tactical surveillance and intelligence-gathering mission, its coverage of over 400 km. And, soon, India will use a special satellite "Phalcon" AWACS networking with other Air Force equipment. Previously, only the Indian Intelligence Bureau Aviation Research Center and the Indian Air Force reconnaissance aircraft developed in Israel has produced Heron (Heron) and the "Searchers" (Searcher) II UAV squadron to provide early warning capability in India.
article said that in the current impasse in the case of India-Pakistan relations, "Phalcon" AWACS is undoubtedly the Indian Air Force's force multiplier. In this regard, the Indian Air Force, retired Lieutenant Gore, said: "It's in Indian airspace to within 100 km of flight in the process of monitoring nearly 200 km in Pakistan's military construction, military and aircraft activities." Former West Indian Air Force Command, Lieutenant General VK Badia also said: "The early warning system with the triple advantage of mobility – the first, early warning systems can be deployed anywhere; secondly, because the early warning system was installed in high-altitude platform, it can provide better coverage; Finally, early warning systems to support control systems and data links, which can be used to guide the aircraft. "
According to the U.S. Defense News 14 reported that in March 2004, India and Israel signed given a contract worth $ 1.1 billion. Under the agreement, Israel will provide three Indian Air Force AWACS, the first delivery is scheduled for November 2007, but was later postponed to the end of 2008, and finally postponed to 2009. Expected, all three early warning aircraft deliveries will end next year. India's Air Force would buy three additional "Phalcon" AWACS, the negotiations have reached an advanced stage, the relevant agreement may be signed this year.
U.S. Defense News reports also said that in addition to the procurement of foreign warning outside India, is also actively developing domestic AWACS: Last July, with the Embraer signed an agreement, the latter producing the EMB-145 aircraft equipped with early warning systems as part of its platform. Under the agreement, Embraer is responsible for three EMB-145 aircraft modification, installation of the machine body by India's Defense Research and Development (OECD) developed active phased array radar. Spring