Home
»
China military
» Overseas Chinese, said the military parade was shocked watching the emergence of a strong sense of belonging
Overseas Chinese, said the military parade was shocked watching the emergence of a strong sense of belonging
Date:2011-09-02
Author:admin
Category:China military
Comment:0
magnificent parade party team for inspection.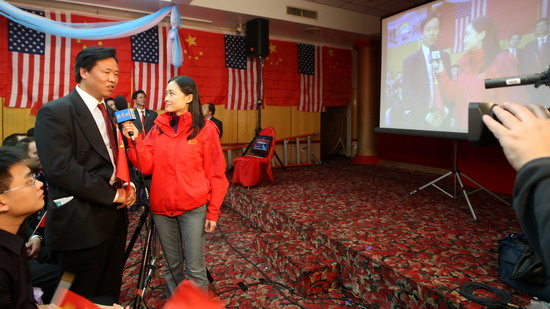 overseas watch the parade of the motherland.
China news agency, New York, October 6 (Reporter Wei Xi) – many people still talked about a grand holiday celebration of National Day, the National Day ceremony in honor of some American friends and overseas Chinese who have returned to the United States. They have the perception or the author's National Day, or hold seminars, sharing feelings with everyone.
US-China Relations National Committee chairman Oulun Si (Stephen Orlins) 六日 author, praised "This is extraordinary." He reproduced in the text before the ceremony in Tiananmen Square on October 1, the sixtieth anniversary of New China, the military parade, mass rallies and party feeling, "This is the thirty years ago since I first moved to China, one of the most beautiful October . " Oulun Si pleased that the "Forty years ago, since I began to study Chinese history, has been surprised at the massive Tiananmen Square celebrations held every ten years, are pleased to finally have the opportunity to go to the scene at the ceremony. Parade and fireworks that do not disappoint, every second is a perfect interpretation. "
Oulun Si also specifically describes his return to Tiananmen Square on October 4 when seen: where crowds, many people who are busy and there floats parked in the photo, we are happily in China National Day celebration.
before US-China Relations National Committee chairman Heli Jiang (John Holden) also impressed with the sixtieth anniversary celebration: to see these, stimulated my thinking about China's past and future. We understand that the information is, "Now China has been restored as a great power should have the status of China in this proud nation, to find their own way, and rapid progress."
Heli Jiang said, "China has achieved great progress. Looking ahead, we can see that China will face many challenges and hopes, and the Chinese people will have confidence and creativity to face these challenges and hope. If so, years later, China will have more to celebrate. "
East Coast Executive Chairman of the Federation of Chinese Associations, Research Center for US-China relations President Huang Keqiang 六日 also told reporters excitedly said that when the see the valiant young warrior square foot teams, all of the modern Chinese self-developed advanced weapons and equipment side teams and across the sky the air echelon, "an indescribable shock, enough to appease the millions of overseas Chinese and overseas Chinese hearts . In these circumstances, people suddenly emerged a strong sense of belonging. "
related topics: New Chinese sixtieth anniversary parade