U.S. Navy intercepted the pirates in the Gulf of Aden arrested seven pirates ship (Figure)
Date:2011-09-02
Author:admin
Category:International military
Comment:0
pirates surrender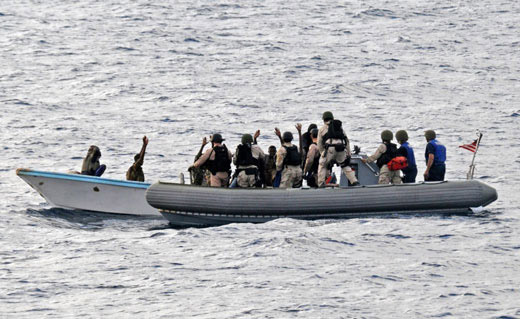 U.S. Navy intercepted the pirates ship, and arrested seven pirates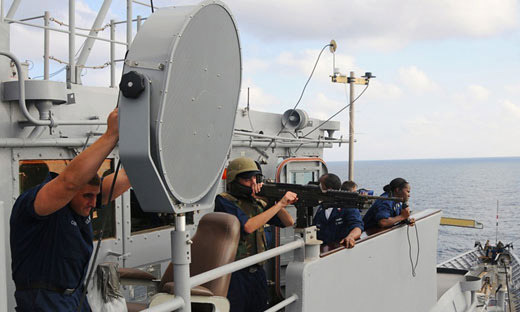 U.S. Navy intercepted the pirates ship

U.S. Navy carrier-based helicopter surveillance from the air pirate ship
BEIJING, Feb. 12 (Xinhua) The U.S. media reports, the U.S. Navy in the Gulf of Aden arrested seven pirates, was a merchant ship sent out distress signals, take a boat that the pirates are trying to block their merchant ships.
According to reports, the U.S. Fifth Fleet spokesman said the merchant vessel flying the Republic of the Marshall Islands on Wednesday (11) afternoon issued a distress signal, after the United States to act quickly Villa Beach cruiser intercepted Corsair and arrested seven pirates. Allegedly, these pirates equipped with AK-47 assault rifles and RPG rockets, they will be handed over to Kenya.
which is led by the U.S. Navy's Fifth Fleet naval forces after the formation of a new international first and arrested the pirates in the Gulf of Aden.
have _COUNT_ -bit user comments I want to comment
. otherContent_01 p {line-height: 23px; margin: 0px;}
Related reading:
French naval commandos captured nine Somali pirates (Photos)
China to save the Greek merchant navy pirate deal with wolves tactical combat
crew launch of China's Zhenhua 四号 throw rope throw cigarette sapiential pirates
pirates hijack Indian ship to the Bahamas Merchant membership fierce shot (Figure)
related topics: Chinese naval escort to Somalia waters