Home
»
International military
» British Navy confirmed that the British and French nuclear submarines collided at low speed (Figure)
British Navy confirmed that the British and French nuclear submarines collided at low speed (Figure)
Date:2011-09-02
Author:admin
Category:International military
Comment:0
This is from February 16 to get the British Ministry of Defense of the "avant-garde" was ballistic missile submarine photos. Xinhua News Agency AFP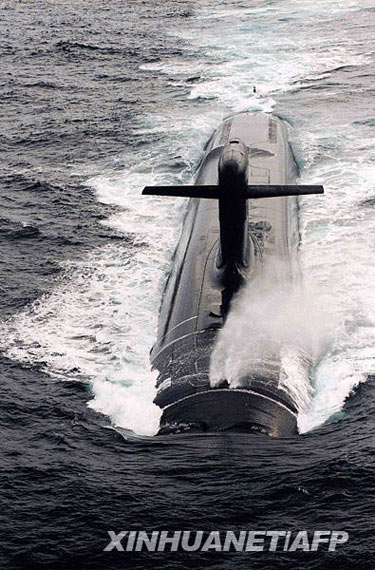 French" Triumph "nuclear submarine profile photo. Xinhua News Agency AFP
LONDON, February 16 – British naval chief of staff Jonathan Bender 16, confirmed that the British nuclear submarine "avant garde" number and the French nuclear submarine "Triumph" was earlier this month occurred in the Atlantic the collision.
Bender, held in London the same day a press conference that the nuclear submarine accident was running "routine patrol" mission, as both sides in the low speed collision, the nuclear reactor or missile boat no damage, not a nuclear leak. He said: "The two nuclear submarines are safe now, the accident caused no casualties."
Bender said: "We can confirm that the UK's nuclear deterrent capability is not compromised, the UK's nuclear security is also not compromised. "
16, British media reported that the British" avant garde "and the French number" Triumph "was February 4, two nuclear submarines collided in an accident Atlantic. The report said two nuclear submarines have been damaged, "avant garde" was towed to Scotland is now repaired. French media also reported the same day that the crash occurred, the French nuclear submarine "triumph" was the sonar shield damage, but still drove back the self-Brest on France's northwest coast near the naval base.
"avant-garde" was one of the UK four nuclear submarines, equipped with 16 nuclear missiles can hit targets within the 5000 sea miles. According to information released by the French Ministry of Defense, "Triumph" is the French one of three nuclear strategic submarines, investment in service in 1997, more than 14,000 tons displacement, the boat was carrying 16 strategic missiles.
. OtherContent_01 p {line-height: 23px; margin: 0px;}
related topics: Atlantic British and French nuclear submarines collided