Home
»
China military
» Navy new type of cutting mine blast into combat with a formal (Figure)
Navy new type of cutting mine blast into combat with a formal (Figure)
Date:2011-09-02
Author:admin
Category:China military
Comment:0
at the drill site with a new mine. Li Wenhao photo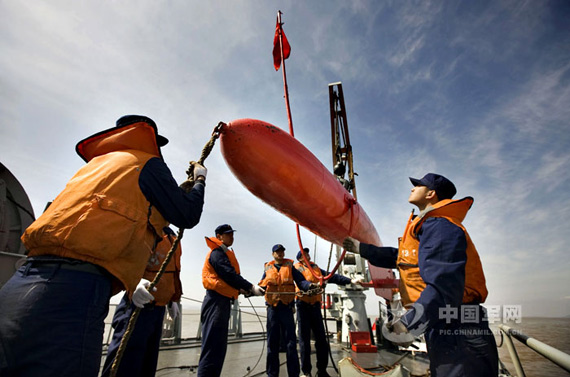 put in the East China Sea Fleet minesweeper unit with a new type of mine. China Zhenhua military networks, send photo
WASHINGTON Hail Ju Sheng, Yin Junjun reports: In early October, the East China Sea a sea, a navy minesweeper squadron carried out a complex electromagnetic environment under the conditions of de-mining exercise. Exercises, China has independently developed a new type of cutting a blast-type mine was put into actual combat use. Captain Ye Hongjun told the author: a novel of mine put into use, effective solution to the low transparency in the case of mine water body is not easy to find, the difficulty of the different forces together eliminate the problem of higher mine, mine to blow up their body directly greatly improved performance force mine warfare capability.
in the past, de-mining method commonly used anchor chain cut mine with the mine, so mine surfaced, and then by ship-based artillery to blow up, mine clearance equipment and the new way is through the auto-off mine detonating device the mines detonated. For new equipment to play the best fighting efficiency of the brigade in preparation training, transferring the professional backbone of the technical group 30 Yuren Cheng Li, 3 research institutions to invite experts to guide the team for training, operation of equipment use, recycling, etc. repeated study and absorb, safe disposal of the relevant measures of tracking guidance. In training, they follow "the whole process, all content, all elements of" training, through Hong Kong shore drill, map deduction, real equipment and preparation, the training time commented on the problems. Also added a mine clearance training at night, to further tap the potential of new combat equipment.
drill site, the new mine clearance operations with skilled officers and men, the rapid sweep to the mines, mine equipment off immediately start automatically, × × seconds after the burst delay, the "boom" is heard, "the enemy "sweep blast mines were successfully opened up a maritime security channel. Field data collected showed that the new mine with the actual combat use, greatly improving the success rate of mine clearance, marking a sea mine-clearance capacity has leapt to a new level.