Home
»
International military
» Russian Air Force is being developed for the fifth-generation fighter aircraft loading robot (Figure)
Russian Air Force is being developed for the fifth-generation fighter aircraft loading robot (Figure)
Date:2011-09-02
Author:admin
Category:International military
Comment:0
Russia fifth-generation PAK FA fighter conceived Figure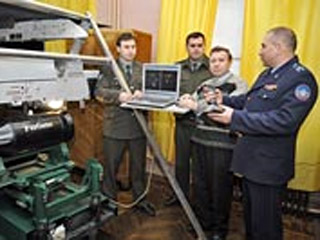 Russia developed a new robot loading system
According to the Russian" Red Star "reported that the Russian fifth generation fighter the Air Force -" front-line aviation future aviation weapons and equipment (PAK FA) " – in some cases may not be able to rely on traditional mechanical tools and manpower to mount weapons and ammunition. To this end, the Russian Air Force is developing a new type of intelligent robot loading system.
director of the Russian Air Force, Department of Engineering Sciences 谢尔盖赫里普 Ivanov said Russia is developing a fifth generation fighter will use the built-in magazine layout, and this design will make the traditional mechanical hanging bomb device does not have enough space to play a role. He said that if the device can barely play the traditional hanging of new fighters for the 270 kg class of ammunition, then it will be heavier ammunition helpless. Of course, the bomb is too simple to rely on manpower can not be mounted.
Russian Air Force is still widely used second-generation fighters for the development of the mechanical loading device characteristics. And put into use for the upcoming fifth-generation fighter, developed a new robotic loading system has been unable to avoid.
At the same time, the Russian Air Force currently are equipped with electric truck, crane and mechanical and electrical drive system is very lacking, soldiers often have to hand ammunition for the fighters. For this reason, disc has become a Russian Air Force ground personnel of occupational diseases.
Zawahiri Punuo Fu that the use of robotic loading system and new technology and equipment will enable aircraft to take off the front air density increased by 30%, so that long-range aircraft take-off density increased by 10%. With the new equipment also allows the loading time to save 10-15%.
reported that the Russian-related businesses is currently being developed and produced some new and efficient loading system. For example, the "universal tool" production plant on the development of a self-propelled material automatic loading system, once and for fighters can transport 1500 kg of ammunition. The system is equipped with lifting equipment in, the larger the weight of the ammunition can be placed in the transport bracket. With this device, not only reduces the intensity of ground staff, but also significantly improve the loading efficiency. (Spring)