Home
»
China military
» Participating airborne combat vehicles arrived painted blue digital camouflage exercise area (Figure)
Participating airborne combat vehicles arrived painted blue digital camouflage exercise area (Figure)
Date:2011-09-02
Author:admin
Category:China military
Comment:0
to participate in military exercises Xinhua reporter Zheng Wenhao airborne chariot photo

suspension system to reduce the use of airborne combat vehicles body height, Note that the left tank, right side high contrast Xinhua military correspondent Zheng Wenhao photo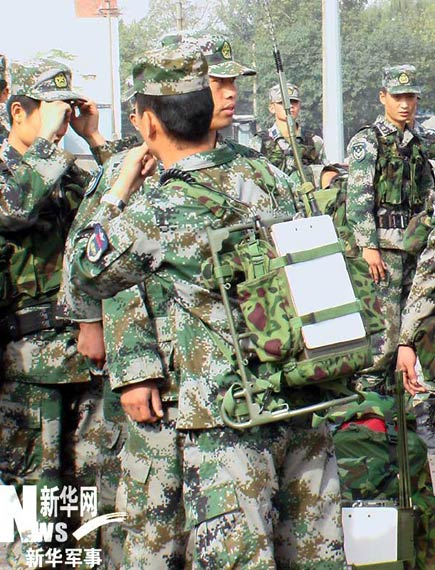 communication equipment soldiers carry military correspondent Zheng Wenhao Xinhua Photo
Xinhua Pingdingshan October 19 (Reporter Wang Dongming Zheng Wenhao) With the roar of the train whistle is heard, an eye-catching blue and white paint loaded with soldiers and tanks of the Army digital camouflage airborne column, the train slowly pulled into the mesa of a cargo terminal. This indicates that after 13 hours of rail-mobile, to participate in "airborne mobile 2009″ has arrived in the airborne unit training destination.
"the exercise, driven by full all the way installed, using a variety of mobility methods, tested under conditions of informatization strategy head of the command authority, especially to test the ability of airborne unit officer positions qualities. "airborne unit led the deputy division commander, said to reporters Li outline.
in just over two hours, all light and heavy equipment have been unloaded end. Correspondent observed that many of the participating officers and soldiers are very young, but whether the driver or on-site car airborne command and control, are orderly.
"This exercise is just in my department officers and men attended the National Day parade in the conduct of." Deputy head of unit, rail-mobile echelon captain Liu Weirong said.
after the end of the rail-mobile, the troops must complete a series of military tactical assessment and diverse subjects as the background of the real task of maneuvering troops.
Related reading:
Photos: military transport by rail to the exercise, a large number of ZDB03 airborne combat vehicles