Home
»
China military
» U.S. and India hold joint Army exercises target the largest alluding to China
U.S. and India hold joint Army exercises target the largest alluding to China
Date:2011-09-02
Author:admin
Category:China military
Comment:0
participate in the US-India joint military exercise the U.S. troops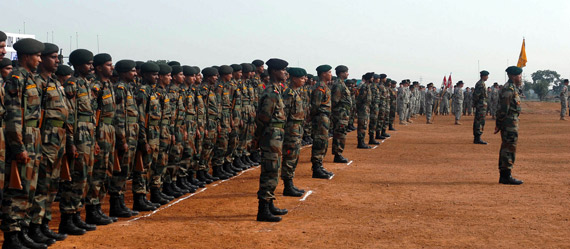 to participate in the US-India joint military exercise in India and the U.S. troops
India starting October 12 in New Delhi to the south of Ba Bina Army held joint exercise. This is the largest in history between the two countries joint army exercises, a group of U.S. soldiers and hundreds of advanced weapons appeared, India has also sent a mechanized units participating. Western and Indian media said the joint military exercises between the two countries not only shows the regional influence, and help the United States for the Indian arms purchase orders, checks and balances while China is the joint consideration.
armies together and thought was cool
According to "The Times of India" reported that the US-India joint military exercise code-named "war preparations." U.S. to send 200 soldiers and 17 "Stryker" armored vehicles participating, this is war in Afghanistan and Iraq, the U.S. military in the first large-scale mobilization of the eight armored vehicles overseas. Ba Bina is the Indian Army 31st Armored Division headquarters, the division responsible for the India-Pakistan border in the desert, the implementation of semi-desert ground combat missions, the main equipment for the Russian-made T-72 tanks and BMP-2 infantry fighting vehicles, is currently gradually switched T-90 tanks. The exercise, the division invested with the same number of U.S. military combat vehicles.
a former Indian official pointed out that "military exercises with U.S. help to improve mutual understanding." Commander of U.S. Pacific Command, the Army Mickelson said, "So far, this is the same India at the most important exercises … … This is a high-end military exercises … we are very happy. "
U.S. to sell advanced weapons to India and a lot
As to get into the Indian arms market, the United States appeared in a series of high-tech weaponry will be a big show of unique skills, while the Indian military would also like to take the opportunity to assess some of the possible inclusion in the list of U.S. weapons sales to India. Since the civil nuclear agreement signed last year, since the US-India military cooperation between the two countries in particular, continues to heat up U.S. arms sales to India, Lockheed Martin and Boeing and other big arms actively into the Indian arms market.
"The Times of India" revealed that the exercise appearance of the "Stryker" armored vehicles and "Javelin" anti-tank missiles, particularly interesting. Cost up to $ 1.5 million in "Stryker" armored vehicles equipped with advanced weapons systems, nuclear biological and chemical protection systems and C4I (command, control, computers and intelligence) system, with a strong fighting and protection. Indian Army also single portable anti-tank missiles, especially the U.S. Army equipment, "Javelin" anti-tank missiles are interested.
addition to the "war preparations" Army exercises, the United States and India will be held on October 19, "Cope India -09″ joint air military exercise. To transport as the main character in the military exercises, the U.S. will show C-17 "Globemaster-III" strategic transport aircraft. India has in the procurement of eight US-made P-8 anti-submarine patrol aircraft and six C-130J transport aircraft, should it still intends to purchase 10 C-17 "Globemaster-III" strategic transport aircraft and 15 Chinook transport helicopter. (Trainee newspaper reporter/Weidong Xu)