Home
»
China military
» Chengdu Military exercises with night vision equipment can identify km outside the tank
Chengdu Military exercises with night vision equipment can identify km outside the tank
Date:2011-09-02
Author:admin
Category:China military
Comment:0
aircraft to attack ground targets. Newspaper correspondent Liu Hua photo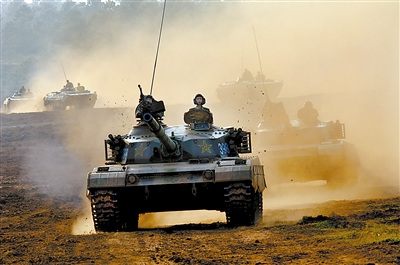 Army tanks "enemy" positions entered. Newspaper correspondent Liu Hua photo
中广网 Beijing October 21 news last night, by the Chengdu Military Region Zhudian a motorized infantry division and a division of the Air Force held joint exercises in the vast land and air Wumengshan started. Reporters in the joint air-ground operations command center to see the Army, Air Force commanders rely on joint decision-making with a command network, carry out their duties. Hawk flying, missile volley, car ride, air side by side battle with the army fighting the cluster.
the exercise, the mutual penetration of air-ground commanders throughout the configuration, integration organization, relying on the information set determined the joint command system, the disposal of the joint, the joint organization and coordination. Meanwhile, according to them, "who battle, who command" principle, the establishment of equality and distribution of interactive integration of command relationships command mode, command and decision-making process in accordance with "a proposal, respectively, both interactive research, the Army commander summed up the formation of determination, the joint disposal circumstances "to, once operational tasks change, but also by the Army to command the main air, land and air forces are all participating characters.
Ta Fang, drill ground, the reporter found that the command means a new look. Past training or exercises, the Army combat cluster using battalion, regiment, division vertical hierarchical command mode, slow emergency response forces. The exercise, they set in the joint battle group communications, combat, fire, air situation, pilot five staff, with the joint command post and the seamless integration of other combat units, combat command mode Command mode shift from vertical to vertical command and flat command combined forces action to achieve the same time, the same region, the same target joint, command and improved efficiency.
Hawk whistling air, ground, rail rolling stream, a branch with air power in support of the new "synthetic camp" a powerful offensive. Reporters learned that innovation and a motorized infantry division "synthetic Camp" grouping approach, in the infantry, artillery, air defense, anti-tank soldiers, engineering, chemical defense, more than 10 kinds of synthetic Lujun Bing on the basis of combat forces and the Air Force part of the joint module of grouping, so drill the size of the command on a level grade, the successful disposal of various types of complex battlefield situations.
air and ground exercises, like a day at night. The exercise, the participating cluster wide configuration army night vision, thermal imaging devices and other new night vision equipment, without the aid of moonlight, starlight and other auxiliary lights, black Yean will be able to identify a kilometer away, under the conditions tanks, armored vehicles and personnel. Opposing sides in the visual environment to practice transparent battlefield command, training coordination, training tactics, developed more than 10 species of night to explore new training methods and tactics.