Chinese-American soldiers return home safely from Iraq ecstatic children
Date:2011-09-02
Author:admin
Category:International military
Comment:0
reserve soldiers serving in Iraq Zhang Huanan 12 to meet the children attending independent primary school children. Jane Kazuo/photo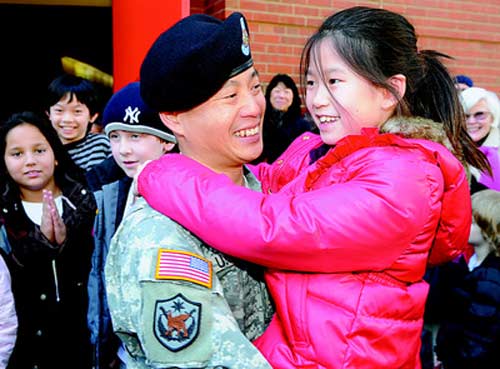 year-old daughter saw Joey Zhang delighted to send my father immediately happy to embrace. (United States, "World News" map; Jane Kazuo/photo)
According to the U.S. "World News" reported that the war in Iraq after the outbreak of 2003, tens of thousands of U.S. troops deployed to the battlefield, causing many families to death. Military service if they can return home safely, his family is really big and good news. March 11, just safely returned from Iraq late Chinese military Zhang Huanan (William Cheung) is one of the lucky ones, 12 in person at his Lower Manhattan independent school children of primary school access, deliberately give them a surprise, a series of touching scenes , so that some parents can not help but look on whom tears.
will be 18 full 40-year-old Zhang Huanan born and raised in New York, United States 20 years ago, applied to join the Army Reserve (Army Reserve), the September 11 terrorist attacks on two occasions after the service. He said: "As a boy and his family live next City Government House Smith (Smith House), his family was very poor, then no money to study, so applied to join the reserve army, to receive grants."
Zhang Huanan frankly never want to that I would be conscripted to serve until the September 11 attacks, he first deployed to Germany when the medic, the war in Iraq is the second time to accept conscription.
itself in Service (IRS) as a criminal prosecutor (Criminal Inspector) of Zhang Huanan, 11 months ago by military training personnel stationed in Iraq when he was 12, said the general reserve of 15 uniforms Yiqi months, but he was prematurely retired, "It is simply incredible for me, the excitement, so the first time two children wanted to give a surprise."
in order to keep the surprise, Zhang Huanan 11 On the evening after the plane to meet only with his wife, Zhang Deng Huimin, and then on to friends to stay overnight. At 14:00 on the 12th and more, Zhang Huanan put a neat camouflage uniforms, standing in lower Manhattan with his wife, an independent elementary school (PS 234 Independence School) to wait before the two children.
Zhang Huanan two children are year-old daughter, Joey Chang (Jodi), and eight and a half Fu-Qiang Zhang (Nicholas). They stepped out of the school gate after school and saw my father standing in front of the first taken aback, then happy father rushed to embrace with open arms, the scene was very touching.
two young children although there is no more words, but in their smiles, we can see how much they miss his father. The presence of a small reporter asked Jodi and Nicholas does not happy to see his father? There are no surprises? They are forced nodded.
Deng Huimin said, perhaps the son was little, very little to show for his father's thoughts, but the daughter would often ask my father come back. She said her daughter was in school wrote, "my father," the essay, the text can feel how much she is proud of his father.
Zhang Huanan conceal his excitement that he was very grateful to parents, wives and children of the understanding, so that he is very at ease during service. In fact, he was back to New York during Christmas last year, two weeks really is not much time away from home, but for him, it has been a very long time, "this came back, I must accompany them, to find back all the time missed with their families. "
uniformed Zhang Huanan 12 attracted many onlookers take the child's parents, some parents even shake hands with him, welcome him triumph go home, some parents see to the moment he picked up the child, can not help but be moved to tears. Many children in the side with envious eyes watching, some even whispered: "I am very jealous, if he is like my father!" (Zhu Wenhan)