Home
»
China military
» Guangzhou Military Region, repair war damage repaired unit 30 minutes of new radar (Figure)
Guangzhou Military Region, repair war damage repaired unit 30 minutes of new radar (Figure)
Date:2011-09-02
Author:admin
Category:China military
Comment:0
security officers and men of "battle damage" radar for quick repairs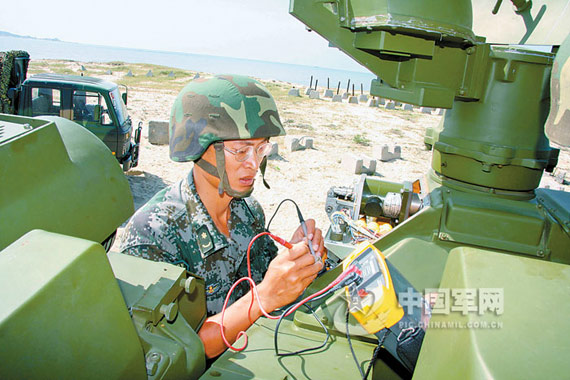 the use of intelligent fault detection equipment to pinpoint
Zhou Ping Yin Huaqing newspaper special correspondent Hua
Muqiu southern Guangzhou Military Region Sea training field guns boom. A support exercise equipment is in full swing.
confrontation, the "blue army" suddenly Shi Leng Jian, the "Red Army" positions under heavy artillery fire, "Red Army" caught off guard, a new radar damaged. Received a repair order from the Guangzhou Military Region ordnance, radar repair emergency repair of the unit composed of officers and men moving hearing, the new radar was towed back to the rear of wartime damage repair center. Subsequently, the security officers immediately detected the use of intelligent radar equipment failure on the damaged equipment for accurate positioning. Find the site of injury, to protect its officers and men for pieces of repair, damaged soon returned to the radar performance, back into battle. The author Taiwan watch from accepting commands to complete the repair task, before and after they spent less than 30 minutes!
In recent years, the Guangzhou Military Region ordnance repair the radar units out of the area filled with radar equipment to conduct research, establish a detailed file information, developed a rapid repair equipment, and conduct simulated battlefield environment exercise emergency repair improve the overall support capability in wartime. Currently, the repair of the area has been fully mastered the radar performance of all models, in general, as long as the symptoms can be quickly reported to exclude, and can also protect more than one direction of repair tasks on-site repair efficiency is improved.