Robot soldiers will join the U.S. military health care shuttle carrying the wounded under fire
Date:2011-09-02
Author:admin
Category:International military
Comment:0
data for: the claws of military robots and the operating system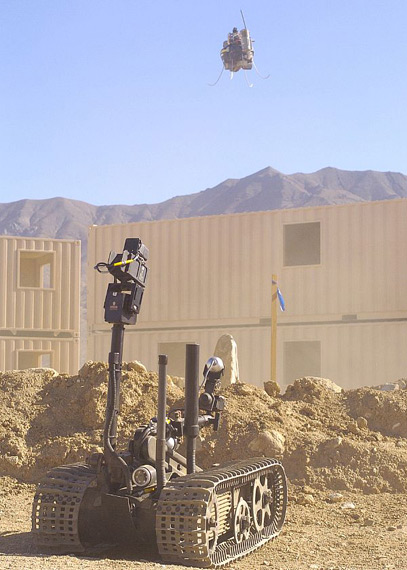 data for: miniature unmanned aerial vehicles and robots U.S. military to perform dangerous tasks of urban warfare, to reduce
casualties in today's highly developed artificial intelligence techniques, diving robots, fighting robots and even robot waiter uncommon. However, you can imagine the robot carrying the wounded in a hail of bullets in the shuttle it? According to the U.S. "Defense" magazine, reported in March 2009, the U.S. military is developing an automated battlefield rescue techniques, namely the use of advanced robotics to achieve the ambulance, ambulance transport the injured and so the whole field program.
according to latest data released by the Pentagon, the U.S. military on the battlefield in Iraq have been killed 4200 people, injured more than 31,000, a large number of wounded soldiers are at great risk from the health care battle ground rescued . However, the importance of health care and soldiers of the Red Cross emblem prominent, shuttling back and forth on the battlefield they will also become the enemy target. Result, there are still many wounded died because of lack of timely treatment.
If you use the "fearless" in robot medic, the situation can be greatly changed. "We would rather let the robot instead of a person or a group of people at risk." VECNA Cambridge, Massachusetts, the company's engineers Mai Keke can be expressed. The company is assisted by the withdrawal of the military commission R & D field robot (BEAR), has launched a prototype product. Project is funded mainly from the U.S. Army under the "Telemedicine and Advanced Technology Research Center."
to fully function on the battlefield, rescue robots not only very "strong" and must be flexible enough. VECNA the company's dual-track robot design, the arms can lift about 240 kg of weight. In the video display on the company, a life-size robot, similar to the dummy weight lifting for about 50 minutes. The robot also uses a "dynamic equilibrium action" design, can rescue the knees, and then carefully picked up the wounded arm. Right now, the technical staff are still on the robot for in-depth improvements, such as let his legs stronger, able to cross barriers.
addition to the field ambulance, the robot can also be used on many occasions. Especially in the earthquake, nuclear biological and chemical attacks or the risk of leakage of harmful substances in the environment, it can load with extraordinary ability and tenacity worthy of a dip. VECNA company recognizes the potential demand for such, the improved model is developed specifically for civilian use.
this robot can meet the ambulance with the large-scale military action, at any time using vehicle power to add energy. In addition, in order to improve efficiency and safety, Benton Harbor, Pennsylvania Ai Pia Chomsky company is also developing a more advanced medical UAV, the U.S. military hopes to use air transport in the form, so completely dangerous battlefield rescue automated, unmanned. (Newspaper freelance writer Rosenberg)