Japan Patriot missile delivery vehicles broke down the middle of a collision
Date:2011-09-02
Author:admin
Category:International military
Comment:0
3 30 evening, to intercept the Japanese in Japan may fall into North Korean missile were transferred to deploy to the northeast, "Patriot" missile interceptor intended location on arrival.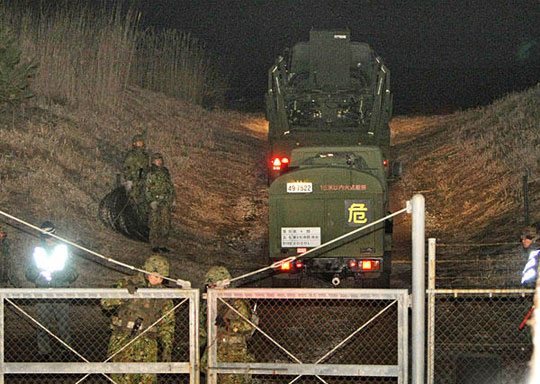 Japan's" Patriot "missile transport vehicles
BEIJING, March 31, according to Japan's Kyodo News reported, carrying" Patriot "anti-aircraft missiles (PAC-3) Japan Air Self Defense Force launch pad vehicle at 22:20 on the 30th or so in the exercise field to the new home of Akita City, opened the way not only the wrong way, and grazing incident occurred, the vehicle broke down. After a tractor rescue, vehicles in three and a half hours after the re-launch, when on the road again is at 1:40 on the 31st after.
It introduces the ASDF, the vehicle is not severely damaged, does not affect the mission. The car was not injured three people.
scene from the exercise field is only 10 minutes. Driver found immediately after opening the wrong direction into the county tried to turn around the baseball field, the results of the right side of the vehicle accidentally hit the lighting of concrete barrier.