New U.S. military night vision goggles to help significantly improve clarity than ever before
Date:2011-09-02
Author:admin
Category:International military
Comment:0
night vision goggles can effectively help improve the U.S. military night-fighting capability.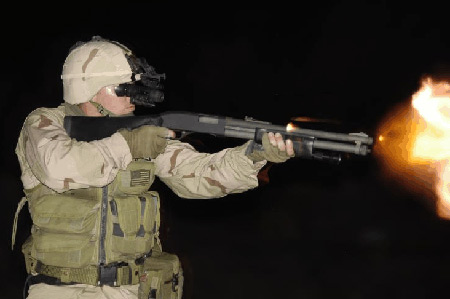 wearing AN/PVS-14 monocular night vision device for night shooting of U.S. soldiers.
According to the U.S. "military" website reported on March 31, after a rigorous review, the U.S. concern the new individual equipment AN/PSQ-20 (ENVG) enhanced night vision goggles, small-scale equipment, the Army now . It is reported that this combination of the latest night vision goggles plus light and infrared image sensor technology, military night operations can significantly improve efficiency.
ENVG by the U.S. Army Program Executive Office for testing, the Army responsible for procurement and purchasing departments with distributed to front-line troops. About 300 sets of new night vision goggles were delivered to Afghanistan in February, the 10th Mountain Division, the division became the first outside addition to special forces units equipped with the night vision goggles. This is the project contractor ITT's large-scale delivery of Overture, 2010, the total value of about $ 560 million contract is closed, there will be more than ten million units ENVG service.
the night vision goggles passive crossover-type design of the image brightness enhancement, and integration with ITT's latest long-wave infrared thermal imaging devices, improve night vision function. It can be installed directly into the helmet, including the use of 4 AA batteries, including battery pack and helmet rack, total weight only 0.9 kg, reducing the burden on the soldiers head and neck area.
addition to the appearance of small outside, ENVG performance can not be underestimated. It can work for 7.5 hours, staff of 150 meters above the target recognition rate of 80% in the 300 meters also reached 50%. Thermal imager in the 8 to 12 micron infrared band work, a wider frequency range and image highlighting the ability to identify it's much stronger than the average night-vision goggles.
ENVG the soldiers to get a good evaluation. "It lets you know exactly where a person, where there is a car," from the 10th Mountain Division Pvt Andrew Booth Church said, "The first time I wear it, feel very clear, there is no need to adjustment. "Captain Robert Fritz Rand also quipped:" Wear it like a Hollywood science fiction blockbuster "Predator" where the alien soldiers as stimulus. "
these products are only ITT Corporation small scale to merit a good response the company decided to build on the existing design to improve the product. Currently, engineers are developing the digital version ENVG, and its increased image processing capabilities to further increase the image resolution at the same time remain vigilant to ensure that the surrounding soldiers. In addition, this digital night vision goggles can also transmit digital signals, so that soldiers can be more familiar with the battlefield situation and keep in touch with his comrades.