Home
»
China military
» F-10 stunt pilots disclosure of the largest and most dangerous actions difficult
F-10 stunt pilots disclosure of the largest and most dangerous actions difficult
Date:2011-09-02
Author:admin
Category:China military
Comment:0
two sets of cross-head F-10 aerobatics difficult. China's military photo picture Center Correspondent Qiao Tianfu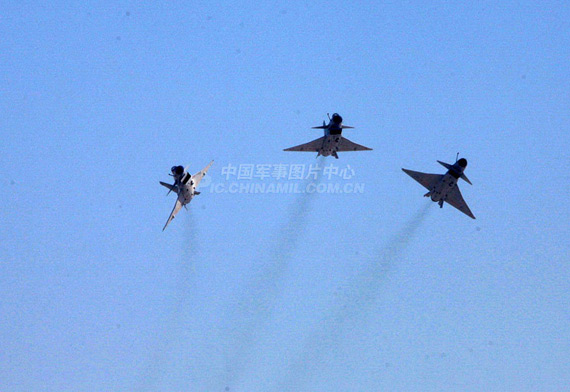 F-10 formation aerobatics. China's military photo picture Center Correspondent Qiao Tianfu
LONDON: November 5, Air Force, "August" flight demonstration team of three members of the military live Xinhua guest room, with the majority of users to share live performances in the air, the thrill of flying stories and manage next-generation advanced fighters made a unique experience. Air force of a division, the first aircraft to stunt driving Jian Shi fighter pilot Yan Feng said, the shortest distance off landslides, the three took off, crossing separately, these head movements cross the most difficult, highest risk factor.
Yan Feng said that the shortest distance landslide take-off, dependent on the reliability of the engine is relatively large. The other is the three take-off, One machine, Unit 2, III machines are small intervals, a small distance, the initial formation of small high density. In this case, once the case, or pilot error control, the consequences should be said that would be unthinkable.
he said, Jian Qi cross separately, before doing separate action, all turn out, but Jian Qi through continuous efforts, and now the approach is the same as the Thunderbird and the United States, is turn. This action appears to be simple, but more dangerous stimulus, more dangerous, because in the low altitude, the air is easy to change, it is prone to danger.
he said, in addition to cross-head, two separate aircraft opposite, very little extent in the cross-head, the relative velocity between them is speed of 130 km, is basically sitting in the pilot cabin, suddenly see a point just passed. Jian Shi is a two-machine, two confidential consideration to the formation of stable, dual-adjust the room is small, not very good adjustment, it is difficult to achieve at the same time, being the same instant in the reviewing stand side. However, through training, performance should be said that these two teams have now have this ability.
related topics: Army Air Force 60th anniversary