Home
»
China military
» Air Force Closure of the Forum: the establishment of information networks into a common air
Air Force Closure of the Forum: the establishment of information networks into a common air
Date:2011-09-02
Author:admin
Category:China military
Comment:0
State Councilor and Defense Minister Liang, November 6 at the 60th anniversary of the PLA Air Force, "Air Force International Peace and Development Forum" on the speech, Chen, deputy commander of the Air Force will host a public forum the day. River Song Ji agency issued photo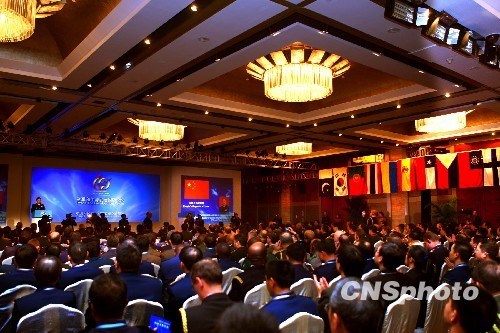 11 6, the 60th anniversary of the PLA Air Force," Air Force International Peace and Development Forum "in Beijing, held at the Hotel Nikko New Century, State Councilor and Defense Minister Liang will address the Air Force deputy commander Chen workers Forum will be hosted. River Song Ji agency issued photo
China news agency, Beijing, November 7 (Reporter Tao Shelan) – Celebrate the sixtieth anniversary of the PLA Air Force, "International Forum on Peace and Development", concluded in Beijing on the afternoon of 7. Forum reached consensus on four.
Chinese air force commander Xu Qiliang in the forum concluded that the forum was held, is conducive to the Air Force the world to promote understanding, enhance friendship, promote cooperation and seek common development, proposed the use of peaceful development the idea of ??space, not only that the world is full of friendly cooperation between the Air Force's energy, and beckons to all countries work together to overcome challenges in the Air Force, for a better future aspirations and confidence.
meeting reached a consensus in four areas:
– in today's security threats and challenges facing the world's analysis, the Air Force generally agreed that countries, peace and development remain the themes of the times, However, the growing global challenges, non-traditional security issues become increasingly prominent, and interact with traditional security issues are intertwined, mankind will face the complex and diverse long-term security threats and challenges. This analysis to determine what countries in the world to build a kind of air, how to use the Air Force proposed a new requirement.
– Air Force position on the role and responsibility of understanding the mission, participants believed that the development of the Air Force after nearly a hundred years, fighting has reached unprecedented levels. Future Air Force will receive more energy, status and role will continue to rise, the scope of application will cover the whole space, and all areas, and even play a decisive role in leading and truly become the preferred national military forces.
– development in the modernization of the Air Force to determine the trend, the Conference believes that the information space with the arrival of the times, aviation, aerospace and information technology convergence, for the air force to provide a great opportunity for development . Twenty-first century air power committed to innovation, restructuring and development, the goal is to establish an information, networking Air Force, focusing on the development of discovery, impact and response and other key capabilities.
– in cooperation and collaboration approaches will discuss, the meeting pointed out that today's security situation, countries must work together to address space security challenges. Forum initiative "to establish a common security space new ideas," "Air Force to jointly promote exchanges and mutual trust", "common space to establish norms and order", "common to fulfill the peace mission", "Air Force culture and share the glory," and in strengthening cooperation such as sharing of space information presented, the Air Force to establish a worldwide association, the World Aerospace Center and a series of specific and practical recommendations. (End)
related topics: Army Air Force 60th anniversary