British soldiers in field guise of food to eat salmon pasta
Date:2011-09-02
Author:admin
Category:International military
Comment:0
Russian troops-man field of food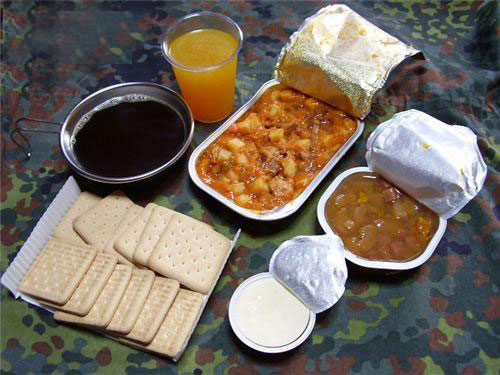 German armed forces of man field food
LONDON, May 14 – British troops march to fight, when to eat? The past is nothing more than biscuits, canned beef, canned beans cooked like commodity. But now the new British field pattern many varieties of food, as much as the restaurant menu.
According to the BBC, now the British rations of biscuits into a bag Oreo chocolate sandwich biscuits, canned cooked beans into a strawberry porridge, cereals assorted dried fruit. Thai curry, salmon pasta are also put into the field of food bags.
reported that the new all-weather field of food packaging designed to withstand extreme temperatures, can be shelf-life of 18 months, and the small size, light weight, easy to carry, more British troops for field of special needs. The new field taking into account the different food tastes and special needs, including halal, vegetarian and Indian food, as well as small package spices for the soldiers to provide 4000 calories per day.
reported that the new field of food will be sent to the front line in Afghanistan, where British troops try to eat three months.
responsible for the field of food supply, said Lt. Col. Wood Hall, the old field is the biggest problem of food monotony, no one wants to eat every morning, cook beans, canned, ate four months. He said that in the field environment, so that the food attractive and improve the appetite is very important to soldiers.