Indian Air Force chief of staff said the Chinese threat to India than Pakistan
Date:2011-09-02
Author:admin
Category:International military
Comment:0
Data Figure: China Air Force two-seat J-11 fighters landed

Data Figure: China Jian Shi Air Force fighters took off at night and implementation of operational training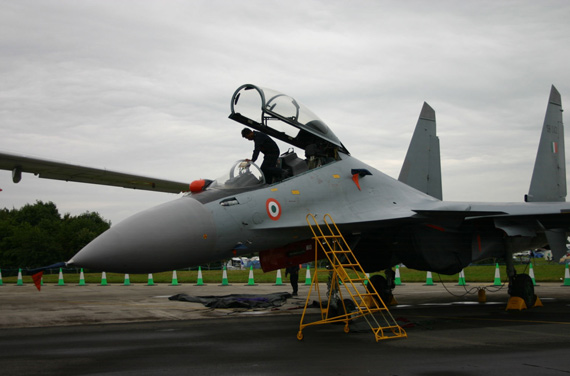 data for : Indian Air Force fielded the Su-30MKI fighters in India
special correspondent Wang told the reporter Na Wang
"Hindustan Times" 24 said the Indian Air Force chief of staff said recently, to the threat from China than from Pakistan, more realistic and powerful, adding that China attaches great importance to "large-scale military expansion."
Indian Air Force chief of staff 法里霍米梅杰 said, India is the rapid escalation of fighting in the northeast of the base to enhance the deterrent power of China. He said: "Compared with Pakistan, China is a totally different situation and we know little about China's actual military capabilities, what are the advantages of their operations, more professional army in the end, we do not know who is definitely more threat. "
The report commented that Powell's remarks will definitely promote the Indian government set up a new subject in China, highlighting the rapid modernization of Chinese military urgency of the safety assessment. Chinese Air Force is to get rid of the old 1960s combat platforms, is the Su-30, Xiaolong/FC-1 fighter, the F-10 attack aircraft, AWACS and other top fighters armed full-speed development. Law says: "according to the Chinese Air Force approach to development, they would have strike capability, but we can not worship in China, we think that they can chew, but also can not ignore the reality that they already have a strong ability to . "
researcher at the Institute of Contemporary International Relations China Hu Shisheng accept the" Global Times "reporter, said that in India, especially in the military," not such a strange speech, there has been no hand strange. " He said that on the one hand, as China's neighbor, India in economic, diplomatic, security has been with China as the benchmark, China is India's target is an excuse, especially in the area of ??security, "the military say such a thing, do not rule want an excuse to increase defense spending, military modernization of India to provide support for their own excuse. " On the other hand, with the upgrading of China's national strength and military power, as a neighbor, India, more and more attention to China, it is makes sense.
one in India, analysts believe that the Indian Prime Minister Manmohan Singh has just been reelected, so that a stable period of development is rare in India, and in Singh during the administration of Sino-Indian relations have been friendly toward the large direction, and now after the U.S. China has become India's second largest trading partner, although occasionally the two countries will be some challenge each other's voice, but this does not affect the trend of Sino-Indian friendship. Hu Shisheng also that, although security and mutual trust between China and India are relatively weak, but in recent years, Sino-Indian military diplomacy has been carried out, both joint military exercise and so help to reduce suspicions that China's military development can not be swayed by these voices, China the right to develop their own military, but in the development process, both sides should pay more attention to enhance military mutual trust.
"Global Times" copyright works without the global newspaper when written authorization is forbidden and offenders will be held liable.