Home
»
International military
» Japan wishes to deter the development of pre-emptive military strike capability and Russia (Figure)
Japan wishes to deter the development of pre-emptive military strike capability and Russia (Figure)
Date:2011-09-02
Author:admin
Category:International military
Comment:0
Data Figure: Japanese H2A rocket launch satellites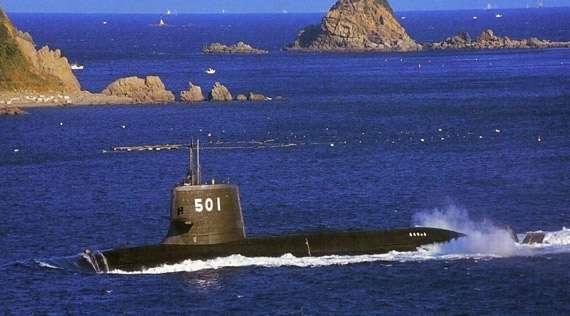 Data Figure: Japan Maritime Self Defense Force's first black dragon boats conventionally powered submarines AIP No.
newspaper correspondent/strict male
Japan already has a pre-emptive military strike capability, the key is breaking the law restricted
end of this year, the Japanese National Defense Program Outline in turn modified, the LDP is planning to use this opportunity to change, breaking the last taboo, and further enhance the Japan's military strength. May 26, the LDP's national defense in charge of military policy defense policy research group will be the Commission, proposes to develop sea-based cruise missiles, so that North Korea could launch missiles to Japan before the pre-emptive strike, "destroy" the missile bases.
gradually breaking down the closed military zone
a long time, limited by the pacifist constitution, Japan's military capabilities have a lot of development closed, for example, can not develop intercontinental range missiles, strategic bombers, aircraft carriers and other offensive weapons attack. Meanwhile, Japan's military policy also stipulates that only attack when the Japanese Self-Defense Forces to fight back.
However, to achieve "normal state" of the target, the Japanese decided not to become a political power, the military must achieve "autonomy", that has a pre-emptive strike capability, to get rid of dependence on the U.S. . In 2003, when he was Prime Minister of Japan Junichiro Koizumi has said that when foreign ballistic missile would call when Japan can not sit still. If you know the other party has a clear aggressive intentions, and are organized and planned actions, Japan must take pre-emptive action. In July 2006, when Ren Xiaoquan Chief Cabinet Secretary Shinzo Abe, has blatantly declared that Japan needs to consider having "the ability to attack enemy bases."
from the 1990s, Japan gradually began to break the course of the military restricted area, "the situation around the law", something the legal system, so that the peace constitution as a fig leaf. And have the ability to pre-emptive, but is taken to Japan becoming a military power necessary means.
aimed at deterring Russia
"North Korean threat" has been a breakthrough in the Japanese constitutional constraints, to enhance the military capabilities of an excuse. North Korean missile launch time, the Japanese government will take this chance to make a more aggressive military policy. 1998 North Korean launch of the "Taepodong-1″ missile, Japan and the United States began to study missile defense system. The Japanese made the implementation of the enemy missile bases "preemptive" attack surface is the issue for North Korea last month, firing rockets.
Japanese politicians, bureaucrats and scholars actually know, North Korea does not pose a threat to Japan. In 2006 North Korea launched a missile, Japan once again clamoring to fight for the North Korean missile base, when South Korea's presidential Blue House Web site on such ridicule the Japanese government: the South Korean government, "there is no reason to like Japan, still dark irritating flying chicken dog jump. "
In fact, the Japanese so-called pre-emptive, deliberate Korea. Japanese scholars have repeatedly stressed that China is Japan's "threat" is that China has a long-range intercontinental missile. Japanese scholars have publicly stated that only when Japan has with the surrounding countries, Russia and other countries such as the balance of military power in Northeast Asia "in order to maintain peace."
Thus, for Japan, with a pre-emptive strike capability against North Korea is false, the resulting deterrence of neighboring countries, Japan is the ultimate goal.
already has the capacity to fight
fact, the Japanese in order to carry out pre-emptive military strike capability is not a problem, but legal constraints.
Japan from the 1950s started to develop modern rocket. Solid solid space launch vehicles and ballistic missiles between the technologically separated by only a piece of paper. If the rocket carrying a satellite into missile warheads or nuclear warheads, to change the flight path, it becomes a ballistic missile capable of striking ground targets or nuclear missiles. Japan's solid rocket more varieties, can form a variety of tactical missiles and medium-range, long-range and intercontinental missiles. Therefore, as long as Japan intends to immediately be able to become a missile power.
of course, for Japan, to use ICBMs for preemptive strikes, but also need to have accurate early-warning satellites, but in this regard, Japan is now also rely on the United States. However, Japan is now ready to develop its own early-warning satellites, if successful, Japan's pre-emptive strike, has become both the "eyes" have "Lance" three-dimensional system.
Now, the reason why the Japanese Liberal Democratic Party to discuss equipment, sea-based cruise missiles, and its purpose is to make pre-emptive strike capability would become a reality, and to break through the limitations of law, not the same as previously, just stay in the possible stage.