Home
»
China military
» Japanese Defense Minister or the two countries reached a consensus 9 search and rescue at sea training
Japanese Defense Minister or the two countries reached a consensus 9 search and rescue at sea training
Date:2011-09-02
Author:admin
Category:China military
Comment:0
Liang in Kitazawa handsome Japanese Self-Defense Force honor guard, accompanied by review. Zhu Hua taken along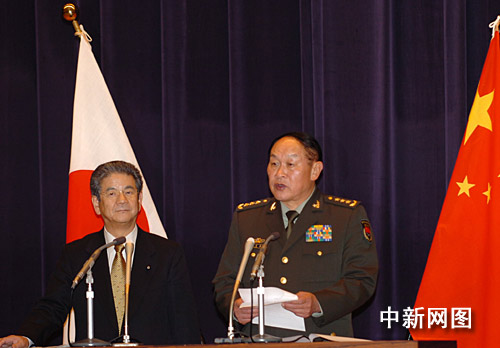 Liang and Kitazawa handsome evening of 27 joint press conference held in Tokyo. Zhu Hua taken along
China news agency, Tokyo, November 27 (Reporter Zhu Yanhua) – 27 night, is an official goodwill visit to Japan, Chinese State Councilor and Defense Minister Liang and Japan's defense minister North Ze handsome held talks and reached consensus on nine. 2010 not only Japan's defense minister and chief of staff of the GSDF, MSDF training ship will visit China, the two countries is also expected to hold their first joint maritime search and rescue training.
joint press release, the two sides agreed to continue under the leadership of the two world leaders and defense departments to carry out the consensus reached and steadily push forward the exchange and communication on the future of the main reached consensus on the following:
one, to continue the defense sector leaders exchanged visits. Defense Minister Liang as a return visit to Japan, Japan's defense minister will be 2010 years, anti-Chinese asked;
Second, continue to carry out the PLA chief of staff, Deputy Chief of Staff, military services and the commander The Japanese Self-Defense Forces chief of staff visits. Japan's GSDF chief of staff will be 2010 years to China, considering China's high-level military delegation to be visiting Japan;
Third, the annual Japanese defense and security consultations. Held in Tokyo early ninth defense and security consultations. Appropriate to hold consultations with the leaders departments;
four, from 2010 the PLA began to carry out a large military and the Japanese Ground Self-Defense in communication between team;
five continue to carry out ship visits. Japan Maritime Self Defense Force training squadron will be 2010 years to visit China;
six, appropriate to hold joint maritime search and rescue training, and in disaster relief, UN peacekeeping operations and other non-traditional security fields and exchange of experience cooperation, exchange of views (including the two countries to carry out humanitarian assistance, disaster relief and other specific joint training exchange views on cooperation).
seven, for the early establishment of the Sino-Japanese defense sector maritime liaison mechanism, held in Tokyo as soon as the second joint working group discussions;
eight, to carry out the various areas of expertise and personnel exchanges;
nine initiate cooperation in the framework of multilateral security cooperation.