Home
»
International military
» South Korea said the North Korean military communications frequencies revealed significantly reduced signs of war
South Korea said the North Korean military communications frequencies revealed significantly reduced signs of war
Date:2011-09-02
Author:admin
Category:International military
Comment:0
5 31, a young Korean female overlooking the Yalu River on the Chinese boat. Reuters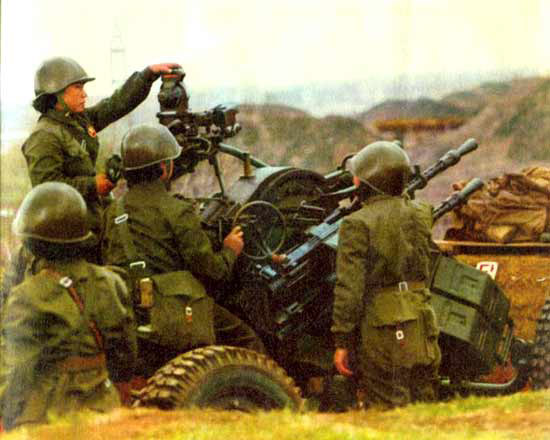 data for: the Korean People's Army anti-aircraft launch position
International Herald Tribune correspondent Kincaid Lianghui freelance writer from Beijing, Seoul, 52 kilometers from Seoul, Pyongyang 209 km – Imjin River station bus stop This was written on the blue and white. A well-dressed old man, clutching his nose next to the stop sign passing by, a few military vehicles coerced dust, passing on to the northern boundary line, the car loaded with heavily armed young soldiers, several of them also wearing black-rimmed glasses face childish off.
these Koreans northern neighbor in May 25 after a nuclear test, the Korean Peninsula on a step by step slide toward the brink of war: 26, South Korea announced it has joined the US-led "non-proliferation security initiative" The move means that South Korea could check the name of nonproliferation North Korean vessels. In fact, when North Korea announced its withdrawal on the 27th, "1953 Armistice Agreement", the peninsula has been at war. Military demarcation line on a "Mars", can bring back to the peninsula 60 years ago that war.
Korean media to capture a variety of "pre-war sign"
"military communications remain silent is a sign before the war." Korea, "Chosun Ilbo" 6 January reported that North Korean military communications frequencies than usual more than halved, the report quoted South Korean government source as saying, "significantly reduced the number of North Korean military communications, may be worried that South Korea listening."
"Chosun Ilbo" in this analysis may be too sensitive, but the signs of much more than war: North Korea has a wide range of sea designated no-fly zone, including the Korean Peninsula West Sea (Yellow Sea) in the central and northern waters. According to South Korean media reports, these Chinese fishing boats operating in the waters more than halved overnight.
At the same time, South Korean media quoted sources as saying said that "North Korea's military recently ordered the Nampo West Sea Fleet patrol boat and other vessels owned subsidiary of troops and reserve troops than usual coastal artillery ammunition double . "And North Korea is currently the West Coast to use the" offensive and defensive level, "such as the high-speed landing craft air cushion landing exercise. Allegedly, the landing craft up to 90 km per hour, capable of carrying more than 40 soldiers in the implementation of a surprise. South Korean military sources, the raid may be targets include paekyong, Yin Ping Island, Upper Island, a large Qingdao, Qingdao and other small island of South Korea's five West. Since the divided peninsula since the demarcation of these islands on the west coast of part of the surrounding North Korea.
the United States and Japan, North Korea may test-fire more alert ICBM. According to reports, Pyongyang Sanin hole weapons from the Institute of starting the train carrying long-range missiles, Iron Mountain has arrived Pyongan East County barn missile base, the current missile is placed at the base of the large assembly building. It is reported that the East barn missile base is located near the Chinese side of the Yellow Sea, 70 km from the Yongbyon nuclear reactor. North Korea test-fired in early April while the long-range rocket is launched on the Korean east coast Musudan-ri base, adjacent to the Sea of ??Japan (East Sea called South Korea).
U.S. military experts found by comparing the satellite images, the intercontinental missile could launch rockets fired in April than 15 meters long, is estimated to reach 55 km range, can hit the United States, Hawaii and Alaska.
Korea ready to do battle against North Korea
North Korea's threat of war, whether it is psychological warfare, or real war preparations? This makes it difficult to determine the Korea-US policy-makers. Although there are many indications that the situation has become more critical, but real-time intelligence Watch Korea has not yet found large-scale North Korean military movements and deployment of fire. Just let the Korea-US commander anxiety is that, since North Korea test-fired rockets in April until the end of May nuclear tests, North Korea is prior notice, and mean it. Therefore, the Korea-US commander has reason to believe that the North Korean threat is not just a simple intimidation, is likely to become a reality.
for worst case considerations, the ROK-US team has entered a state of alert. South Korean military has issued orders to the frontline troops in Korea to launch the first provocation countered, "North Korea fired one bullet, South Korea must fight back with three rounds." Meanwhile, the South Korean navy has a small extension of floor about 2 nautical miles south of the island waters deployed four 1200-ton warship to carry guided weapons and additional troops in the vicinity of islands, surface to air missiles deployed.
as a protector of South Korea and Japan, U.S. 12 has stealth capabilities of F-22 "Raptor" fighter, on May 30 and 31, after another arrived Kadena Air Base. "Raptor" is currently the world's most advanced and aggressive force of fighters, the U.S. Air Force to play "break" role, is a large-scale attack in the U.S. emergency striker. According to military experts, took off from Okinawa, "Raptor", can easily break through the blockade of North Korea's air defense of North Korea's nuclear facilities and other strategic targets "surgical" attack. June 3, came news that South Korean military, the U.S. has agreed to sell to South Korea, GBU-28 laser-guided bombs used to attack North Korea's underground missile and aircraft hangars, as well as underground nuclear facilities.
At the same time, "Reagan" nuclear-powered aircraft carrier battle group will leave on May 28 the U.S. West Coast home port of San Diego and went to Northeast Asia and the convergence of the U.S. Pacific Fleet, the carrier battle group also includes four Zeus Shield ships, a frigate and a large supply ship, and may not be the spotlight of nuclear submarines. The resident of East Asia, "Washington" nuclear-powered aircraft carrier after the departure in mid-May, has been a sea cruise in the Western Pacific.
peninsula facing a "Storm in June"
some outside observers, the current situation is difficult to ease the Korean Peninsula, the occurrence of a limited military conflict more likely than ever to big. South Korean experts Dong Longsheng in an interview with Japan's Kyodo News Analysis, North Korea asked other countries to accept their nuclear status, on the basis of this dialogue can, and this is the United States, South Korea and other countries can not be accepted.
South Korean President Lee Myung-bak and U.S. Defense Secretary Robert Gates, have repeatedly said on different occasions, will never tolerate a nuclear North Korea. Gates even throw in a hard case, "the United States will not sit idly." Presidential decision-makers in the Pentagon and the desk, had put several sets battle plan against the DPRK.
North Korea expert at the Central Party School Professor Zhang Liangui in the "International Herald Tribune" interview, expressed strong concerns on the peninsula, he believes that "North Korea is now great courage", the peninsula is almost difficult to to avoid military conflict. Zhang Liangui, said a nuclear test, North Korea on their own more assertive military power, South Korea has in fact reduced it in the hands of the hostages. And North Korea to determine the current time in its favor. More critical point, Professor Zhang Liangui that, in order to achieve the status of North Korea's strong Shengda Guo, leaving to his successor a solid power base, the North Korean leader has a strong sense of urgency. "As more large-scale conflict will occur, it is hard to say."
Professor Zhang Liangui to worry, especially in the current six months. It is reported that the first Korean war in the West Sea in June 1999, the second took place in June 2002, the Korean War also took place in June. In addition, the June 15 North Korea has always stressed that to fulfill the "Joint Declaration 6.15″ Nine anniversary, 16, is a Korea-US summit talks with Japan. South Korea Kyonggi University professor Hong column predicted that North Korea may be in the West Sea in June launched provocation at sea. "Chosun Ilbo," said, "June can not be underestimated."
augmented uncertainty
However, some experts to North Korea's series of actions as it has always been the "brinkmanship", aims to promote a nuclear weapons as a bargaining chip to obtain more important negotiating position. This view is supported by evidence of a major, that is, "North Korea's military strength enough to make it sure to launch a war"; In addition, China, Russia and South Korea will not agree to launch against the United States against the DPRK.
another evidence of this view, which is "the reason North Korea is desperate to acquire nuclear weapons in order to stabilize the domestic transfer of power." June 2, South Korean media reported that the DPRK Kim Jong Il's three sons have been identified as the successor to Kim Jong-un. This is a message to the outside world even more convinced that the DPRK nuclear test from internal affairs.
If this view is consistent with the actual situation in North Korea, then when the Korean successors established and gradually stabilized, the situation on the peninsula should be eased, at least not let the situation go to war completely. Lived in Korea for several years, the South Korean media as "Korea" between Chinese scholars Zhande Bin in an interview that North Korea should take a defensive internal and external policies in order to maintain the stability of the transfer of power.
recommended "International Herald Tribune" blog: http://blog.sina.com.cn/m/xqdb