Peru may purchase up to 120 MBT-2000 MBT China
Date:2011-09-02
Author:admin
Category:China military
Comment:0
participate in the parade of the Chinese system MBT2000 Peru tanks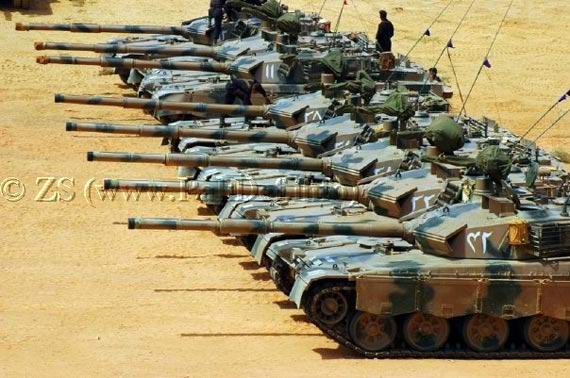 Pakistan Army has a lot of equipment MBT2000 main battle tank
LONDON Dec. 10, 2007: According to the Russian military Equality Network reported on December 9, Peru Defense Minister Rafael * Rey on December 8 in an interview claimed that secret is about to sign with the Chinese main battle tank MBT-2000 procurement contracts. Currently, the tank is being tested in Peru. However, the secret defense minister also expressed the hope that this tank can be equipped with was "better."
this needs to be emphasized is that, MBT-2000 December 8 tanks had participated in the parade held in Lima, Peru. Secret local "La Repubblica" reported that the secret military may purchase 80-120 vehicles MBT-2000. Previously, the Peruvian military had, respectively, for China, Germany, Russia, Ukraine and Poland were compared with production of tank testing.
MBT-2000 main battle tank developed by China to Pakistan's export main battle tanks, formerly known as China's 90-II tanks.
MBT-2000 tank combat weight of 48 tons, crew of three, the biggest battle travel 400 kilometers. The tank is equipped with thermal imaging night vision system that can perform combat missions at night. Tanks installed power of 1200 hp Ukrainian 6TD-2 water-cooled turbocharged diesel engine, so that 48 tons of "Khalid" power to weight ratio of 26 hp/ton, the maximum highway speed of 65 to 70 km/h, accelerates from zero to 32 km/h time is 7-9 seconds, the biggest road trip 400 km. The gun is a 125 mm smoothbore gun, capable of carrying 39 rounds can be fired depleted uranium, tungsten alloy penetrators, shaped shaped charge with high-explosive grenades and so on.
In addition, defense secretary also disclosed that the country is planning to purchase a number of Brazilian Super Tucano light attack aircraft type. He said: "This aircraft is not only easy to maintain, and equipped with advanced technology and equipment." (Compiled: Spring)
related reading:
Photos: China's system of MBT- 2000 tanks appeared Peru's National Day parade