Home
»
International military
» Pakistan first aircraft by the end of the factory-made Xiaolong fighter aircraft planned annual output of 25-30
Pakistan first aircraft by the end of the factory-made Xiaolong fighter aircraft planned annual output of 25-30
Date:2011-09-02
Author:admin
Category:International military
Comment:0
Domestic Xiaolong 04 test machine Source: Aviation World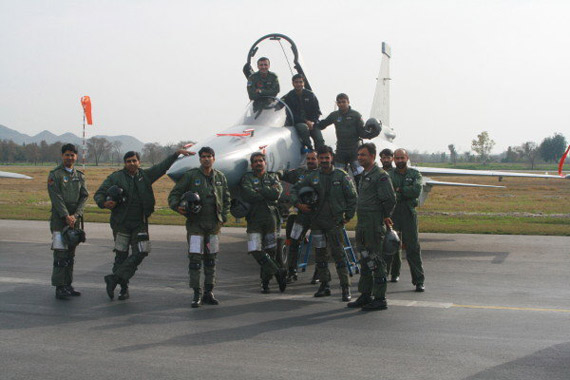 currently has eight delivery of the Pakistan Air Force fighter Xiaolong
Global Times reported in Pakistan Correspondent Ahmed Maiha June 2009 27 Islamabad — Pakistan Air Force Rao Qamar Suleman, said on Saturday that Pakistan will begin this month its first aircraft in the domestic production of advanced jet fighters: JF-17 Lightning (Fierce Dragon), and has since joined the world one of the few producing countries fighters ranks. JF-17 Lightning fighter plane is a light utility aircraft, the Chengdu Aircraft Industrial (Group) Co., Ltd. with the cooperation of Pakistan aviation complex product. JF-17 aircraft, the first two prototypes are completely China's development, and delivery of the Pakistan Air Force in 2007. Pakistan began the following year a small-scale pre-production and prototype testing and prepare the assessment is complete avionics systems into the mass into production.
"We will this month (June) 30, began producing JF-17. If everything goes smoothly, the first of the local production of JF-17 aircraft will fly at the end of the airspace in Pakistan." Pakistan Air Force Commander Rao Qamar Suleman said.
Pakistan army is now increasingly dependent on air power against the Taliban. Pakistan Air Force Rao Qamar Suleman, said taking part in a graduation ceremony: Air Force planes were used to expel Taliban militants out of the mountains, and destroy their hidden base. For instance, in Swat and Fata areas, the Air Force have played a very good fight results.
since April since the beginning of the anti-Taliban military operations in Swat and the surrounding three regions, the Army and Air Force have already killed about 1,600 Taliban fighters. Pakistan Air Force Rao Qamar Suleman, said Taliban militants supporting the Army, the combat for the Pakistan Air Force is the first time.
JF-17 fighter is a kind of highly cost-effective aircraft to meet the developing tactical and strategic operational tasks. Pakistan now plans an annual production of 25-30 JF-17 fighter.
Photos: Pakistan made the first aircraft off the assembly line by year-end Xiaolong fighters
have _COUNT_ -bit user comments I want to comment
. otherContent_01 p {line-height: 23px; margin: 0px;}
Related reading:
Photos: On a shipment of 124 strategic airlift three Xiaolong fighters
Xiaolong fighters to complete four bombs and 1,100 l fuel tank drop test
selling cheap Chinese bar owl Dragon fighters in other countries is difficult to enjoy the same benefits
Pakistan Air Force F16 fighter procurement of a large number of sales Xiaolong Pakistan plans threatened
Pakistan experts: Xiaolong may export 1500 Korea will buy 200