Home
»
China military
» Singapore media: the next decade China will be a large number of advanced warships equipped
Singapore media: the next decade China will be a large number of advanced warships equipped
Date:2011-09-01
Author:admin
Category:China military
Comment:0
article says 052C destroyers showed China's dependence on foreign sensor technology has been a huge breakthrough

The article said the Chinese Navy ships to the Russian 052B "Modern" class destroyers comparable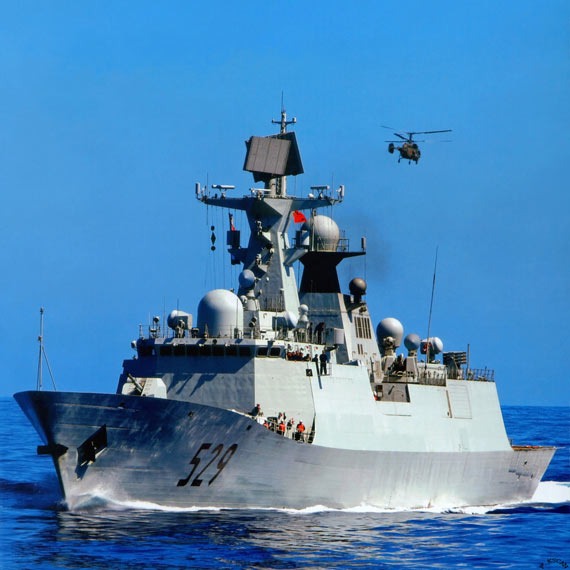 article called Type 054A (NATO code-named" Chiang Kai-II "class) frigates of the PLA Navy's most advanced active frigate
Singapore Defense Review article reported that in Asia, for Asia-Pacific countries are rapidly upgrading their fleet. China into the 21st century is as archaic surface warships, the ambitious upgrade project, the next decade will be the introduction of advanced large number of new ships being introduced gradually replaced by modern destroyers and frigates replaced. China's Pearl Harbor strategy has been much attention from regional neighbors. China to upgrade and modernize the armed forces, especially the blue-water navy to build combat power of the efforts to make other Southeast Asian countries to enhance their defensive capabilities in response.
The article said that China has been investing substantial resources to the modernization of the armed forces, such as the purchase of foreign advanced technology, the development of national capacity. China has been the focus from construction to build land-based naval combat power transferred to the body. For the development of truly blue water navy combat capabilities, the PLA navy is expanding fast, a number of related major projects under way.
PLA navy's main combat vessels are behind obsolete in the next ten years will be gradually introduced a large number of new modern destroyers and frigates replaced. In 2004, the PLA Navy to meet the needs of the modern destroyer, 052B destroyer (NATO code-named "Ocean Journey one"), the official armed forces. Currently there are two ships of the class warships, "Guangzhou" and the "Wuhan number" in the military. The ship built by the Shanghai Jiangnan Shipyard, combines a number of Russian-made systems and technology.
class destroyers with Russia in the "modern" class destroyers comparable, and equipped with similar systems, including the Russian MR90 fire control radar, each radar can provide two channels can also guided two surface to air missile. The front top of the mast is equipped with a "Fregat-MAE-5″ 3D air/land search radar. The radar can simultaneously track 40 targets, when the search target aircraft, the maximum range of 230 km; when the search target sea-skimming missiles, the maximum range of 50 km.
class destroyers equipped with the Mineral-ME-the-horizon detection devices and anti-ship cruise missile (ASCM) system. These systems support data link, providing over-the-horizon radar detection capability. In addition, 052B destroyers equipped with domestic 344 (MR34)-based fire control radar system. The system provides fire control capability for the naval guns, after the installation of masts at the top of a large round shield, It is believed MR36 surface search radar.
2004 至 2005 年, 052B destroyer successor model 052C destroyer (NATO code-named "Ocean Journey II" class) fitted out. Currently, the air defense missile destroyer, there are two, namely, "Lanzhou" and "sea" number, showing that China's dependence on foreign sensor technology has been a huge breakthrough. And 052B destroyer different, 052C destroyer equipped with an array of domestic four multi-function phased array radar, the radar system with the U.S. and Japanese warships are equipped with the "Aegis" AN/SPY-1 radar system is quite similar. It is believed that the radar developed by Nanjing Institute of Electronic Technology. In addition, 052C radar equipped with 517H-1 (NATO codename: "Knife") long-range 2D air search radar; anti-ship missiles and guns for control of Russian MR-331 (Band Stand) fire radar, and two for short-range weapon systems 327G "Valley Light" fire control radar.
2006, the PLA Navy's blue water navy desire has taken an important step forward: the first ship of its fielded 051C air defense missile destroyer (NATO code: "Luzhou" level). 051C destroyer designed to equip the ship-to-air missile defense system, fill the People's Liberation Army Navy has long been in the field of defense capabilities gaps. Ship-based sensors, including "Fregat-MAE-5″ air search radar, MR36 surface search radar, Mineral-ME radar, missile control, and two 347G-based fire control radar.
2006, the PLA Navy fielded two modified version of the Russian 956EM-type "modern" class guided missile destroyers – "Taizhou" and "Ningbo" number – to fill the delay due to local destroyer design The resulting gap. With the introduction of two destroyers, China has also received a related advanced technology devices, including sophisticated sensor, a Fregat-MAE radar, a set of MR-184E radar, two MR-123-02 radar, a sets of Mineral-E and six sets of MR-90 Orekh fire control radar. Destroyers are equipped with MGK-335 system consists of a fixed combination of sonar "public horn" (Bull Horn) initiative and the "whale tongue" (Whale Tongue) passive search and attack sonar hull installation; anti-jamming system includes eight PK10 and 2 a PK2 chaff launchers, 4 a "football" and six "half a cup," the size of the laser warning receiver; data link system includes a "Cover Bell" (Bell Nest), two sets of "Valley Light" (LIGHT BULB) and two sets of Tee Pump data link.
active PLA Navy frigate is the most advanced type 054A (NATO code-named "Chiang Kai-II" class) frigates. As a 054-type (NATO code-named "Chiang Kai-I" class) successor model, 054A frigates fitted out in 2003-2006, it is equipped with improved sonar systems. As the Chinese by the Shanghai Hudong Shipyard and Guangzhou Huangpu Shipyard frigates, 054A combines the design of a number of stealth features, including the smallest radar cross section. The frigate is equipped with sensors are mostly designed by Russia, including "modern" class destroyer based systems obtained through reverse engineering. General, including Fregat-MAE-5 air defense radar, MR90 F-band radar, Mineral-ME radar controlled anti-ship missiles, MR36 and the 347G-based maritime search radar, fire control radar. It is believed that the same type as 054, 054A frigate is equipped with Russian-made combination of MGK-335 sonar system fixed.