Home
»
China military
» U.S. military networks, How the Chinese military exercises: the real and ever-increasing but the old routine
U.S. military networks, How the Chinese military exercises: the real and ever-increasing but the old routine
Date:2011-09-01
Author:admin
Category:China military
Comment:0
Army Aviation to the "enemy positions" fire cover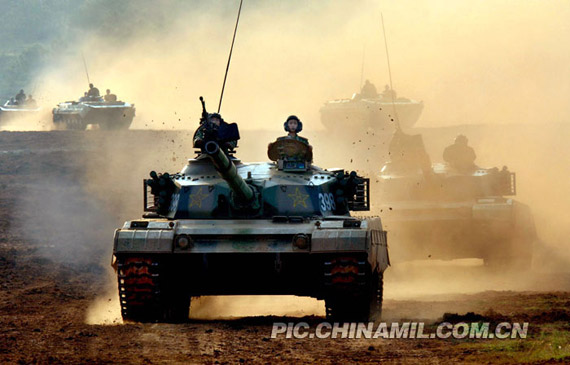 Army armored vehicles to the" enemy "positions
reporter/Weidong Xu
recent years, China increasing the transparency of military exercises, exercises The actual combat against the strength and have a huge leap in 2009, China has become the "exercise years." China military exercise not only for foreign media paid great attention to the process, their results also gave a high evaluation. U.S. Strategic News December 31, 2009, has written that the Chinese classic "red and blue against the" military exercise is comparable to the U.S. and other military powers of the exercise.
Chinese military exercises with the advanced technology
U.S. strategic News article that the U.S. military is still in the field of military exercises in a leading position, but in the past 10 years, the professional military exercise not only covers the chart drill, some high business simulation game also played a big role. Chinese seize this opportunity and change, successful use of a large number of Western technology to enhance the exercise level. Many active duty military personnel, retired soldiers and private individuals have contributed to this.
the Chinese military by holding different types of exercise, training the team to enhance the brigade-level officers and command capabilities. China disclosed exercise photos show Chinese military officers in training in cooperation and coordination efforts more. Western counterparts, Chinese troops and commanders also began extensive use of battlefield video imaging technology. Other disclosures also show that China's military exercises also focus on strengthening exercises on the tactical level.
more "real thing"
Although the U.S. and Western military power, the Chinese military exercises in some respects, there is a gap, But with the pace of China's accelerating military modernization, military exercises held in the Chinese military's "confrontational" is also increasing. As of November 30, 2009, after media reported the large-scale military exercises (drills) with 18 times in 2009, a veritable army of China's "military exercise of the Year."
to "win 2009″ actual-troop maneuvers, for example: "red" and "blue" armies by armored brigades and infantry brigades as the two teams using their own mode of confrontation, military department experts and institutions only when the referee, not subject to the brigade-level commanders a lot of room.
"I do not believe what Brigadier ready beats." Military training and arms of the Nanjing Military Region, the Ministry official said, a strong desire to win, wait for them to force the "enemy" mechanically. To exercise "leading role" sufficient autonomy, real swords and spears to fight, that China, as Western media have speculated that exercise is not as rigid, but continued to mature.
fault-finding exercise to China
in positive progress, the U.S. strategy to China News Network also exercise "fault", said although China exercise has demonstrated a "new trend", and truly become an important means to enhance the combat effectiveness, rather than declaring a political means to an end.
However, the concept is different from the East and West, China's senior generals want their team to obtain a more positive and positive evaluation. Article even speculated that the strength of Chinese military exercises in the army sometimes be exaggerated, especially in large-scale exercise, play a "positive role" of the team often invincible.
article that, for the professional military exercises, the outcome is not important. Accordance with the usual understanding, it is only a confrontational exercise, but the Chinese military is often stressed in accordance with the previous exercise routine, or a specific tactical plan validation exercises. In other words, exercise is not to encourage "breakthrough tactics" or "fight it out to play." In this regard, the Air Force's "Red Flag" exercise the most worth learning, it stressed that "real fight", "red" and "Blue" both pilots and even to achieve "life Competing" with it.
and at a higher level of exercise, plays a leading role in improving the program, only the smooth implementation of the various steps in order to effectively organize a large-scale forces. This exercise is also a test of everyone's ability to execute the same command, "victory" and "failure" depends on communication and implementation.