Home
»
China military
» Integrated new generation of military equipment protection module of meteorological and hydrological field
Integrated new generation of military equipment protection module of meteorological and hydrological field
Date:2011-09-01
Author:admin
Category:China military
Comment:0
mobile support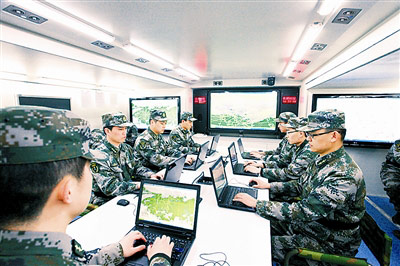 Union speech
Wei Bing Huang Chao Wang Ya newspaper reporter
News Alert
grandson says: "to know Heaven knows, the victory is infinite." Information warfare is military confrontation, but also the cognitive environment of the race to control the battlefield. Who can accurately predict the weather, both combat and hydrological conditions, while avoiding disadvantages, who will be able to grasp the initiative in war.
Today, high-tech weaponry, no not meteorological, hydrological environmental constraints, there is no military meteorological and hydrological protection, can not be true "all-weather." Military security is the use of meteorological and hydrological meteorological and hydrological scientific knowledge and technology to deal with military activities with the weather, climate, hydrology relationships, weather trend hydrological interests, to avoid the weather, hydrologic victims, protect the smooth conduct of military activities in the process.
winter, the ancient battlefield of the Bohai Sea, sky color, placid.
quiet sea and air, Hurricane processes: 3 rounds and then drag the red flares off, Hawk prominent clouds, just listen to the air, "Thunder," Loud, a few kilometers of coastline is a fire and smoke; armored roar, split pan of water waves break the water barrier beach occasion, to a high advance; transport helicopter hovering at low altitude, special operations soldiers, skilled movements and accurate cable down on the ground, seizing key points … …
Zhexiang fight was going on , corner of the battlefield, a car shelter has been quietly Shoulong, into the vast darkness. Sort of thing, where to go?
end of the line climbing this shelter, car, Jinan Military Region Director of the Center of Meteorology and Hydrology said Chi Gong Secret to reporters, this cabin is just out side the army installed a new generation of meteorological and hydrological protection unit field . Weather in the success of today's battlefield, "pulse", they have collected all the relevant meteorological and hydrological information, prepare for tomorrow's landing field analysis and forecast meteorological and hydrological conditions.
This is the rumor of the weather, "predicted force" battle of lightning storms, "the pulse of people." Gong Zhuren introduced by the new generation of military self-developed integrated security module of meteorological and hydrological field is divided into six modules, 8 sub-systems. Relying on it, meteorological and hydrological field support teams to complete their own geographical and battle, space-related meteorological and hydrological information collection, processing, analysis, forecasts, released.
at the moment, meteorological, hydrological forecasters are working on a careful analysis of meteorological and hydrological data, and everyone looked glued to computer screens, swing busy.
weather forecasters Tang painted a fly on a filled area × × view of the various meteorological stations on the weather map information to detect, analyze the dozens of packed red, black, brown, yellow and other colors disorderly wave-shaped curve. These lines are for? To reporters questions, Tang Fei side of the operation as he replied: "This is a site based on various meteorological and hydrological analysis of upper-air sounding data derived contours, isotherms, slot lines, ridge lines and the shear line, it clearly reflects the high-altitude pressure field and temperature field distribution changes, the meteorological and hydrological forecasters the most basic work. "
side, forecaster Li Zhijun click of a mouse, the meteorological satellite cloud images, × × facsimile maps of the region class-assisted another load forecast data in meteorological and hydrological information display module. Through comprehensive comparison, the Li Zhijun said, meteorological and hydrological protection of the most critical is to fully grasp the meteorological and hydrological data to make reliable and timely forecast products.
troops out before the mission, often called the military to meteorological and hydrological services to help. Today, the shelter load information receiver module and mobile communication module, real-time synchronization to receive three satellites, the four networks of meteorological and hydrological data for the accurate prediction provided strong technical support.
spoken, a certain type of field meteorological and hydrological information collection and transmission system suddenly issued a "bit" sound, ringing. Hydrological observers Ning fast operation, groups of new hydrological data on the display began to jump. Original, through hydrological placed on the offshore element of many automated collection equipment, changes in real-time battlefield panoramic view of sea water features.
car to the sea where hydrological information? Ning answer: Now, propelled hydro-automatic collection devices, widely used in military hydrological observation, can regularly be observed wave height, sea surface temperature, flow rate and other information automatically sent to the satellite, and hydrological observers do not personally sea, use of the car, "oceanographic acquisition and processing system," Battlefield sea oceanographic information that is known.
echo signal quality according to Liu Ning, constantly adjusting the data rate, the rows of band there are rules on the display flashing. Wave height, wave direction, current speed, sea temperature and a series of data, from time to time it is loaded into the electronic chart … …
hydrological forecaster Song Shumin swift keystrokes, 30 minutes, All marine hydrographic data transmitted through the internal LAN to the integrated military meteorological and hydrological applications. Operating system to automatically collect all data on the identification, treatment, excluding false positives and interference data.
Then Song Shumin for detailed re-check all data, and then transferred to "a wave numerical prediction system", high-performance computer full load operation, and soon, a pre-war sea waves, sea surface temperature forecasts Figure from the printer and slowly spit.
sun cluster network technician, told reporters, through advanced technology, each unit module is connected into a network of interconnected local area, to establish high-speed information access, information collected from the meteorological and hydrological analysis and processing, drawing mapping to achieve a "one stop" assembly-line.
after a series of processes, the Chi Gong as chief forecaster said, began with the military meteorological and hydrological experts to remote online video weather hydrological forecasting conferences. At the moment, cabins on both sides of the LCD screen, there have been four military experts of the figure, the middle of the big screen showed a weather map analysis. He told reporters: "the use of remote consultation system, the military, although the distribution of meteorological and hydrological experts around, thousands of miles away, but to meteorology and hydrology with a map before the operation, various types of curves marked my side, they do not agree can be directly from him wipe the electronic map, plotted separately, as in the same room as the job. "
Sure enough, much of the North Sea Fleet in Qingdao Marine Hydrometeorological Center, deputy director Zhang Xiaohui of a slot line on the graph speed raised an objection. She believes that high-altitude trough will weaken the next 24 hours, moving faster, then she picked up the pen, re-plotted in Figure a trough line, this view has been approved of.
several rounds of discussion, a refinement of meteorological and hydrological forecasting the formation of the final product, the reporter saw a single forecast of the next 24 hours stated on the elements of accurate meteorological and hydrological data and the transition time.
"so detailed you need to forecast?" "Military meteorological and hydrological forecasting, trends can not be broadly reported to be more accurate, more precise, more timely." Gong said Chi said: "The next war is precise command , precision strike, need for refinement of meteorological and hydrological information security, such as the prediction of cloud, must be reported to have almost a quasi-cloud, what kind of cloud, cloud base number; of wind forecasting to be accurate in what time period reported, what geographical extent of the wind blowing, the impact of weapons such as fighter aircraft deployed returned to the ground to 10,000 meters height prediction of wind direction, wind speed, wind direction if the height of a shear, wind speed exceeds a certain value, it will directly affect the aircraft takeoff and landing, the consequences would be disastrous. "
about the security, Gong Zhuren is sigh: exercise areas are located at land and sea communication, weather changing, marine and hydrological conditions is particularly complex. Attack launched on the eve, the wind blowing along the coast, clouds pressure sea, accompanied by moderate to heavy rain, low visibility, the exercise can not proceed as scheduled? The face of the commander's inquiry, he insisted his forecast: tomorrow afternoon 16 to 18, the exercise area less wind, Visibility, although short showers, but uneventfully.
military no joke, not to mention the "prophecy", the beach weather, but said they please. Confidence due to a strong technical support behind it, since the numerical weather prediction system, the global meteorological and hydrological information databases and satellite ground stations and other resources, integration, field meteorological and hydrological protection unit has achieved a fixed, regular, accurate quantitative prediction , to speak naturally quite unashamedly.
experts subtle ■ Jinan Military Region Command Operations, LIU Xi-Hop
With the rapid development of modern science and technology and information era, the military career of Meteorology and Hydrology has been an unprecedented development in joint operations, strategic and operational exercises, cross-mobility exercises, disaster relief, counter-terrorism security maintenance of stability in diverse military tasks such as playing an increasingly important role. In recent years, local wars that occurred in the world, high-tech war on the meteorological and hydrological environment and a greater dependence on space weather, space weather, meteorological and hydrological protection requirements are higher, so that military and space weather, meteorological and hydrological protection of Vietnam during the war and more highly valued. Meteorological and hydrological operational command and organizational security as key elements of military operations, how to accurately understand and correct use of meteorological and hydrological conditions, full assessment of the viability of its troops, weapons and equipment performance, as well as the degree of influence carry out combat missions, and implementation of accurate, timely , continuous protection for military action to seize the victory is essential.
In recent years, meteorological and hydrological forces in the region's traditional field of atmospheric environment has been initially established a joint security system integration services and arms, in a number of key issues and made significant breakthroughs in key technologies in the Defense Science Sino-Russian joint military exercise testing and other major events, played an important role. Today, our region of space weather meteorology and hydrology in the modern high-tech industry support, is working toward the timing, location, direction of stride quantitatively accurate prediction before the line.