Home
»
China military
» Guangzhou Military Region for the first time as a senior non-commissioned officers endowed inspire the morale of soldiers in the heart (Figure)
Guangzhou Military Region for the first time as a senior non-commissioned officers endowed inspire the morale of soldiers in the heart (Figure)
Date:2011-09-01
Author:admin
Category:China military
Comment:0
Guangzhou Military Region Chief of Staff, Gu Xiao Wei (right) personally endowed.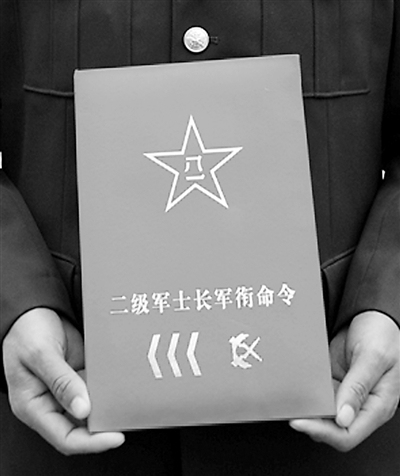 heavy rank order form.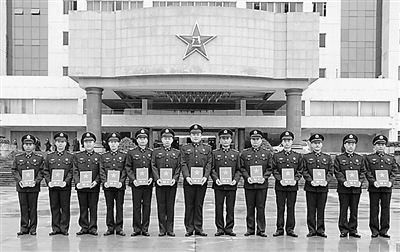 13 Mingyi, two sergeant photo.
News Record
WASHINGTON special correspondent Lihua Min, Yan Deyong reports: surrounded by flowers, waves of applause. December 31, 2009, the Guangzhou Military Command officer training center in the ceremony held for the first batch of 13 senior non-commissioned officers awarded the first and second rank of Sergeant Major. Gu Xiao Wei and the Guangzhou Military Region Chief of Staff issued a rank order for them to like.
2009, the Central Military Commission headquarters will be one, two awarded the rank of Master Sergeant, promoted to the approval authority, adjusted for the unit commander of the military region level authorities. Guangzhou Military Region for the first time the ceremony was held endowed senior non-commissioned officers, noncommissioned officers is to implement specific actions to reform the system, but also to promote the healthy development of NCO ranks, encouraging the morale of soldiers heart, strive to foster the core values ??of contemporary revolution in military an important measure.
the 13 sergeant major are: a Master Sergeant Hu Xiangde, two were said Master Sergeant Hui, all of your music, Wushu Hong, Liang Rongzhong, Wang Jianguo, Wang Yuquan, Fu Long Ouyang, He Qingquan, Gao China, Zou Ming, Weiguo Rong, Chen Chao-. They are the Guangzhou Military Region NCO ranks emerged in the contributions. Of these, one person awarded a first, 10 people awarded the second class, 42 people awarded a third class, eight army won the Technology Progress Award, some of the "National fifty-four Youth Medal," and some elected "National Ten Outstanding Young Persons", as well as enjoy special government allowances.
witness said
moment, let us never forget
total communication Guangzhou Military Region station a sergeant Huxiang De:
"When the sergeant major, really glorious"
army, I have been working in ordinary jobs, But I firmly believe that each post is attached to combat. When the driver, I was named in mid-red driver; when the repairman, I have repeatedly been rated as excellent workers; also privileged to attend a military eighth, ninth Party Congress.
25 years passed. In the same year enlisted comrades, cadres and some became teachers, and some became chairman. Some people say I lose, but I think: When the sergeant major, really glorious!
these years, I have joined up the power, learning technology, as the backbone, the soldiers almost all desire the desire to achieve. Today, the families of army and my job, the children go to school in the city of Wuhan, my wages equivalent to group cadres, my baby from a poor rural valley, also lived on the city's affordable housing, is really proud of the heart indescribable.
I have with grateful heart, work harder!
Guangzhou Military Region Battalion Sergeant Major UAV team two were said Hui:
"to play a good role model and radiation"
This is my first time in 21 years the army endowed attend the ceremony and felt very excited. Frankly, when the mood than a first stand still excited! Promoted to colonel rank of the past, many are not endowed at the ceremony, and I, as a two sergeant major, was able to participate in military endowed the ceremony, I feel very proud.
forces in recent years at all levels attach great importance to the NCO ranks of noncommissioned officers are very caring, as a sergeant, I was particularly touched deeply.
first heavy responsibility. Management over the last soldier will understand the teaching on it, we can now force required level of English and computer must be over a year must participate in operations research. I basically three years study while working, a very full schedule. Second, the treatment of high. In 2007, I attended a military organization of the non-commissioned officers resort group. In 2008, the army also for me to declare a special government subsidy, so that non-commissioned officers also enjoy the "national" treatment. Third, the position improved. Tactical grouping of forces the organization last year, joint training, which in the past must be above the battalion led planning exercises organized activities, but to my head unit organization.
this endowed, the military head of the demonstration and asked us to play the role of radiation, with more outstanding non-commissioned officers. At that moment, I feel the burden is even heavier, and only based on their own, their expertise, to contribute more, is the sergeant major mission of the Department of duty.
Guangzhou Military Region brigade UAV team captain Ge Guang-chao:
"inspired by the spirit of all great"
Fai Road, as were the direct leadership, this time accompanied him to participate endowed, I felt the same share of glory and pride.
the past few years, my Ministry and the proportion of non-commissioned officers of the preparation of the changing educational structure, more comprehensive quality of their ability, were said Hui is one of the prominent representatives. He not only proficient in flying, diving, parachuting and many other special operations skills, but also to master the use of a variety of high-tech equipment. Under his influence, driven by a large number of non-commissioned officers ease their own, wanted to be dry, our unit was higher for five consecutive years as a "military training units."
Road hui were able to participate in such a grand endowed ceremony, is the glory of the Ministry of all officers and men, inspired by the spirit of all great. The end of elite forces to organize a new annual contest, many soldiers submitted written determination that were said to be like the Hui, as when a determined Jingwu, and worked hard to win the elite soldiers.
Guangzhou Military Region, a guard battalion sergeant-day Chen:
"I like them excited"
sitting in the audience , watching the 13 senior non-commissioned officers, who took over from the military rank of head of command like, I like them excited!
Sergeant Major among these, there are a lot of my familiar name: Hu Xiangde, were said Hui, all of your music, Wang Jianguo … they dry in the ordinary post out of the extraordinary performance, are benchmark that we can learn, they are our soldiers hearts glorious "Star"! From them, I saw a hard plan to win, based on their own first class spirit, promote the non-commissioned officers of our army heard footsteps reform, strengthen the achievements of ordinary soldiers but also big business beliefs.
guard me from a sentinel on duty, the growth of squad leader, platoon leader agent, there are a lot of sweets and bitters. For example, as a military guard of honor during the execution team leader, training really boring, difficult to manage are large, sometimes sprouted some "ideas." Whenever this time, I am reminded of the selfless dedication of those typical of the excellent non-commissioned officers, the infinite inner strength to stir, I believe there is no break, but the "Flaming Mountains", there is no honor guard with the bad.
Guangzhou Military Command Military Affairs Minister Yang Wanjun:
"a sacred spiritual baptism"
NCO NCO rank is to distinguish between levels that non-commissioned officers as an important symbol, but also moral and non-commissioned officers, qualifications, contributions to the comprehensive embodiment. Organization of the endowed ceremony is to implement the military reforms of the specific actions non-commissioned officers, senior non-commissioned officers in the armed forces for the establishment of the position and role, and enhance their sense of responsibility and sense of honor, encourage the majority of serving soldiers at ease, to make progress, make contributions to promote the military noncommissioned officers a healthy development of great significance.
endowed ceremony we hope to make it 13 Master Sergeant cherish honor, even harder work, a good military training model, a model soldier, technical experts, and effectively become the soldiers in the growth and progress, learning to become example.
district officers and soldiers of the army is concerned, this is a very good ceremony of education. I believe the majority of officers and soldiers will undergo a baptism of the holy soul, set off a craze to learn to military construction mission in their respective positions due diligence, hard work to consolidate and enhance the combat effectiveness of military forces to make a positive contribution.
(newspaper correspondent Lihua Min, Yan Deyong , correspondent Lin Shanjie order)
edition photographs by the three red Lee , in the morning photo
Further Reading
According to the Central Military Commission in 2009 issued a "non-commissioned officers to deepen reform program", the current non-commissioned officers from the rank of low to high were corporal, sergeant, sergeant, four sergeant, three sergeant, two Master Sergeant, a Sergeant Major.
basic wages, to maintain the same standard starting wage of primary non-commissioned officers and senior non-commissioned officers the highest wage, mutatis mutandis, is to determine the level of regiment officers, and other non-commissioned officers at all levels of wages in this interval determined by a certain percentage.
( Li Yunfei series)