Home
»
China military
» Navy training ship fleet returned to complete his mission training
Navy training ship fleet returned to complete his mission training
Date:2011-08-29
Author:admin
Category:China military
Comment:0
Zheng training ship by the port. Reporters Xueyong photo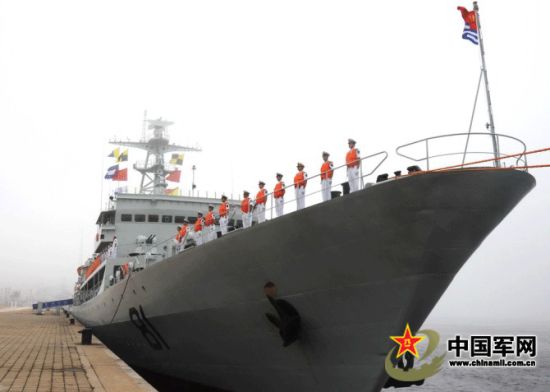 ship by Hong Kong, the formation of soldiers lined up neatly on the side of the ship. Reporters Xueyong photo
military networks Dalian China August 11, Xinhua correspondent reported Xueyong: full access to Russia, North Korea's achievements, from the "Zheng He" and the number of ocean-going training ship, "Luoyang" I composed missile frigate Navy training ship fleet today to return a military port of Dalian.
15:00, naval flags fluttering inside, drum gongs, majestic martial music, "Zheng" ships and "Luoyang" ship slowly through Hong Kong. After 18 days, the 2938 sea miles of rough baptism, the two ships ship clean and tidy, well-equipped, 560 officers and men in high spirits to return home.
Navy training ship fleet is on July 25 set sail from Dalian, a military port, visited the Russian city of Vladivostok and the North Korean city of Wonsan. In the meantime, the formation commander met with the leaders of the armed forces to the state and local government officials, soldiers and the formation of national officers and sailors to ships through mutual visits, to carry out sports, concerts and receptions and other forms of wide deck to carry out friendly exchanges , spread the "harmonious world", "Harmony sea" concept, from the Dalian Naval Academy's 100 students have also been astronomical navigation, to the text navigation, hydro-meteorological and other practical training courses aim to achieve a friendship, display image, to improve the ability established goals.