U.S. battleship Missouri in the ship to repair the Japanese signed the surrender ceremony was
Date:2011-09-01
Author:admin
Category:International military
Comment:0
1945 年 9 2 April, the Japanese surrender delegation was led by Foreign Minister Mamoru Shigemitsu signed the surrender on the deck Missouri instruments.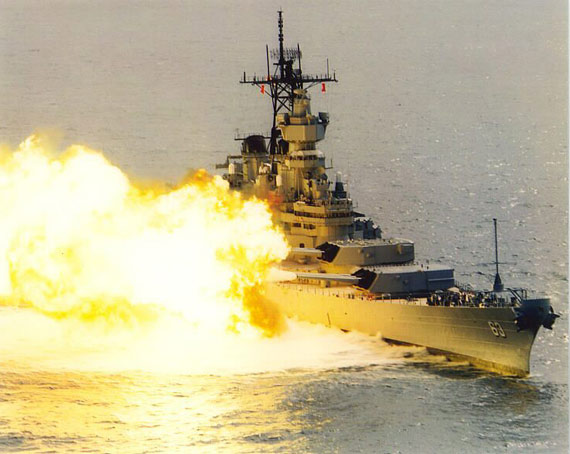 Missouri battleship guns firing
According to Navy Times on August 30, 2009 reported that in 1945 the Japanese unconditional surrender ceremony held at the "Missouri" battleship (BB-63) will be held in October 2009 The ship left Pearl Harbor fleet, entered the shipyard for repairs. Aboard the 65-year-old warship in good condition, but because large areas of peeling paint rusty, teak deck has been bent, still need to enter Pearl Harbor Naval Shipyard for maintenance. Before the service, September 2 will be in the "Missouri" was held on the 64th anniversary of Japan's unconditional surrender ceremony.
approved by the Memorial Fund by the Department of Defense funded the $ 15 million overhaul, will re-paint the surface, most of the work will ship 270 meters long ship into the dock closed after sea water drained This allows all workers to paint the entire hull, including those usually in the underwater part. Now part of the pier has started maintenance work, visitors can see the ships around the flagpole has been erected scaffolding.
"Missouri" was built in 1944, the United States, "Iowa" class battleship of the Three ships, participated in the Battle of Iwo Jima and Okinawa, 1955, sealed into the reserve in 1980, re- service, before the 1991 Gulf War, conducted the first launch, retired in March 1992 and displayed on Pearl Harbor. (China Shipping Information Center Jiaochun Kun)