U.S. aircraft carrier using the latest electromagnetic catapult out of the fighters at any time
Date:2011-09-01
Author:admin
Category:International military
Comment:0
United States, "Ford" class aircraft carrier (CVN-78) renderings

United States," Ford "class aircraft carrier (CVN-78) deck layout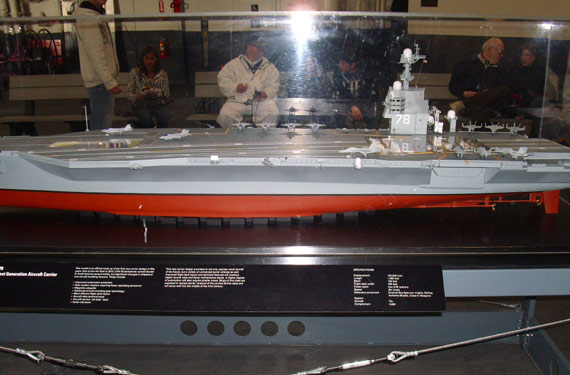 United States " Ford "class aircraft carrier (CVN-78) model
newspaper freelance writer Rosenberg
U.S. military announced last year to start building a new design of the" Ford "class aircraft carrier, the ship's future." giant sea "has been popular attention. June to July, the United States, "Popular Mechanics" magazine interview set by the new prime contractor Northrop Grumman aircraft company invitation to the construction site – in Virginia, Newport News shipyard site visits, opened its first ship, "Ford" class aircraft carrier (CVN-78) mystery.
"like the construction of Disneyland"
While the Pentagon announced a year ago to build new aircraft carrier of the message, but related projects since the end of the century will be in brewing, some parts of the design work began in 2000. "Popular Mechanics" interview group to reach the shipyard, the sky is fluttering Meng Meng rain, we saw open-air venue filled with steel partitions, and several piles of one hundred tons of steel hull components, like a giant their boat split up scattered toys in one place. Come together, "the world's battle fleet navigation Naval Academy," magazine editor Eric Wertheim sigh: "It's like building a Disneyland, like!"
as the world's largest and most advanced ships, "Ford" class aircraft carrier pre-construction design work is the most critical part. Aircraft is so complex, almost does not allow for any design errors. If such error is not to be identified, a small defect may lead to multi-million dollar boondoggle, and may lead to cost overruns, difficult to pass a chain reaction and acceptance.
this from the relevant budget can be discerned. CVN-78 the total price of $ 14 billion research and development costs accounted for 50 billion dollars. U.S. Navy officials said, as the design model and manufacturing processes mature, the second ship in the construction of new aircraft, it can save a lot of research and development costs and construction time, cost will be reduced to $ 6 billion.
U.S. aircraft carrier design dates back to the last 1960s, when engineers and technicians relying on paper and ink and a large wooden model of the design work completed. Today, the vast majority of the design process, drawing, calculations, test work can make use of computer-aided design (CAD) software. Interview group personally experience such a scene. They were taken to a "meeting room", the middle of the room stood a high of about 2.4 m big screen, shipbuilding experts from around the country together through virtual reality technology to discuss, like most of the movie "Star Wars" Jedi meeting warrior scene.
old faces hidden under the new performance
accompanied by U.S. Navy officials said the new aircraft carrier in appearance with the existing fleet of 11 "Nimitz" class aircraft carrier is not much different, but the internal changes are staggering. In particular, the "Ford" class much less dependent on the steam, in large part due to its use of the improved nuclear power systems. According to reports, the ship scheduled to adopt new A5W pressurized water reactor, its power, simple structure, with 13,800-volt DC power distribution system, the area can produce 3 times the "Nimitz" class power. New ship power transmission power, high reliability, versatility, and can meet the propulsion, aircraft catapult and the high-energy weapon systems.
all the things on the old aircraft carrier is almost inseparable from the steam – heated cabin, drying clothes, water desalination, launch carrier aircraft, rely on nuclear reactors produce steam energy. Because it is easy to damage caused by leaks, these devices require a large number of professionals to operate the steam valves, meter reading and maintenance of machinery; and "Ford" class most directly comparable to electric drive system, greatly reducing the need for personnel, energy use efficiency improved significantly.
replace steam power with electricity Another advantage is reflected in the flight deck. Old aircraft carrier steam catapults can not take off too much of the aircraft carrier, which would require sufficient acceleration to off, so often need to improve the speed of the aircraft carrier deck with the wind to help aircraft take off. "Ford" class out of this limitation, it uses the electric drive of the new electromagnetic catapult, not only reduces space, but without prior warm-up, to cope with an emergency war situation. Together with its thrust output can be precisely controlled, it applies to different aircraft types.
As a result of modern design, "Ford" class in other ways than the old aircraft carrier. In appearance, the new carrier to improve the island superstructure, fully consider the vision, direction, flight control, a variety of radar and communications requirements; In addition, many new-concept weapons will be loaded ship, including electromagnetic rail guns, high-energy laser weapons, high-energy particle beam weapons.
"one hundred thousand ton monster" called into question
Although the "Ford" class construction in full swing, but its future is still some uncertainty. Northrop Grumman to be carried out carefully and evaluate the progress of construction, to avoid problems caused by supervision departments stopped delay – delay caused by cost overruns, it was such a huge project the number one enemy. Coupled with "Ford" class staggering cost, natural susceptible against some members of Congress questioned: "Our current enemies of the main terrorists, small groups of guerrillas and poor pirates on the boat, so why does it need such one hundred thousand tons of monster? "
another hot topic around the new aircraft carrier and timing of the construction. "We know enough to threaten the future with?" Wertheim said, "for example, by 2060 there will be a manned aircraft is? We are still at a crossroads." Magazine editor in chief of the military point of view on behalf of many human concern – whether the new aircraft carrier in the future must come in handy? Since history is littered with similar precedents – such as replacing the last century ironclad battleship, battleship during World War II aircraft carrier and the dim light, a few more years, who can guarantee there will not be the birth of newer ships do? By then, spending heavily to build a "giant sea" will not shine it was too late to replace it?