Home
»
China military
» Reputation does not change the position of arms sales to mainland sanctions will not work
Reputation does not change the position of arms sales to mainland sanctions will not work
Date:2011-09-01
Author:admin
Category:China military
Comment:0
Burghardt that the United States, including arms sales to Taiwan will not change position. (In the assessment agency correspondent KQSONG photo)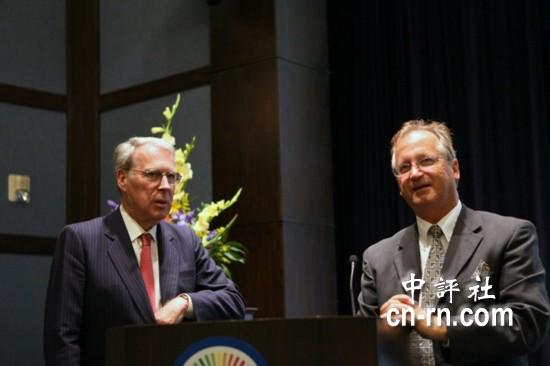 Burghardt and president of Pomona College Professor Dru C. Gladney. (In the assessment agency correspondent KQSONG photo)
World Wide Web January 13 message, "American Institute in Taiwan Chairman" Burghardt evening local time, a claim that the United States, including arms sales to Taiwan will not change position.
assessment agency reported, according to Hong Kong, Burghardt said the United States recently approved the sale to Taiwan worth 6.4 billion U.S. dollars of weapons in America's interest. The United States will continue to abide by commitment on Taiwan's security. "It is because the U.S. arms sales to Taiwan, Taiwan's negotiations with the mainland would be more confident."
reports, Burghardt added that China's holdings of U.S. bonds only accounted for all U.S. Treasury bonds 6%, China's exports to the U.S. trade accounts for a large proportion of China's economy. China's dependence on international trade far more than the United States. So the Chinese official threatened the interests of U.S. business and economic sanctions to retaliate and the U.S. company, to sell U.S. bonds is "absurd." "If China did, hurt and loss, or China's own interests. And will not work."
reported that, Burghardt said the United States at this stage on the mainland, Taiwan to contain both the policy to maintain a peaceful status quo across the Taiwan Strait for decades. "The United States will continue to contain the military against the mainland, on Taiwan's policy of political containment."
Burghardt said that the United States supports the two sides exchange, negotiation and reconciliation. The request of the United States will not negotiate and exert pressure there is no timetable. In particular, he pointed out that the United States will not exert pressure on Taiwan.