Home
»
International military
» Japanese media that the Korean army preparing for war prepare the Korean entry into the program one hundred thousand
Japanese media that the Korean army preparing for war prepare the Korean entry into the program one hundred thousand
Date:2011-09-01
Author:admin
Category:International military
Comment:0
South Korea special forces behind enemy lines, infiltrate tactical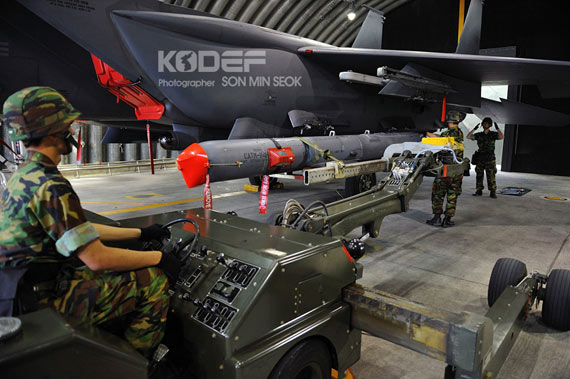 ground is the South Korean Air Force F-15K fighters to add a range-based SLAM air-launched long-range missiles
LONDON October 13 News: Since April this year, long-range missile launches and North Korea's nuclear test, South Korean military exercise is on-going military preparations led to continued tension in the Korean peninsula. 11, Japan's Sankei Shimbun published an article, in order to prevent disclosure of the Korean War and the Korean peninsula to prepare for the full inside story.
article revealed that South Korean troops have been drawn up to prevent North Korean nuclear and missile attacks war plan, determined through the introduction of new weapons, etc., to build a more solid national defense force. The article quoted the South Korean Ministry of Defense sources said the person, wartime South Korea plans to send 100,000 troops into the Korean war reserve. The article also quoted experts as saying that South Korea, although the number of South Korean troops only 65.5, far below the 1.19 million North Korean People's Army, but not to use nuclear weapons in conventional war, the South Korean forces will eventually win.
develop nuclear system to nuclear strategy
Japan's Sankei Shimbun's article revealed that on the morning of May 25 this year, North Korea suddenly be two underground nuclear test . In the afternoon, South Korean National Defense Committee meeting held immediately, when Defense Minister Lee Sang-Xi Ren Hanguo the DPRK issued a tough speech, proposed a "core system of nuclear" strategy, saying U.S. and South Korea against North Korea, including between the counter-plan, including nuclear "Once North Korea's intent to use nuclear weapons, and its related nuclear facilities, launch sites, transportation, etc. will be based not attack."
then on June 16 in Washington at the US-South Korean summit, South Korea the two sides signed a document, once again stressed the "core system of nuclear" strategy, made it clear that the U.S. nuclear umbrella Next, give the South Korean defense "to expand inhibition," the rights of and confirm the US-ROK joint deal with North Korea's nuclear attack.
F15K fighters prepare
report also revealed that if the Korean maritime border in the military cordon around a military provocation, the Korean Air Force will use F15K fighters in combat. In order to prevent North Korea's provocation, South Korea, in addition to ready to use KF16 other fighters, but also with a wide range of airspace defense for the "Patriot", Nike and other anti-aircraft missiles.
F15K fighter with a range of 68 km in range air to air missiles "AIM-120″ and the infrared range of 20 km short-range air to air missile "AIM-9″, through the configuration of the collimator helmet in the pilot operation. F15K used for ground attack "AGM84H" missile, circular error probability is only 3 meters, 1.2 m able to penetrate the thick protective concrete wall, can be used to attack North Korea's major military installations.
set Network Warfare Command
6 this month, South Korean Ministry of Defense announced in 2020 as the goal of "defense reform, the basic plan (revised scheme) . " The plan includes the use of weapons of mass destruction North Korea before South Korea to strengthen capacity to fight and so on. In other words, North Korea, South Korea will conduct surveillance and reconnaissance, while increasing their accuracy and ability to intercept the missile hit, Once North Korea has nuclear weapons and missile developments, South Korea in the Korean territory will be pre-emptive strive to cut off its flight path.
now, the range precision strike South Korea to North Korea Pyongyang can only cover – Wonsan. To counter North Korea's weapons of mass destruction, South Korea plans to expand the scope of 2020 to the entire Korean peninsula. In addition, for network attacks in recent years become a national security emergency security issues, South Korea is expected to be responsible for attacks in the war next year to set the "information security headquarters."
build a nuclear attack protection system
order to prevent North Korea's nuclear attack, South Korea has invested 100 billion won in the Blue House and military bases and other places to build electromagnetic pulse (EMP) damage protection system. EMP is electromagnetic waves generated by nuclear explosions, can paralyze the computer and communications equipment and command and control ability to cut off. United States conducted nuclear tests in Hawaii, Zeng thousands of kilometers away in the far west coast of the United States all the power the city's lights, it shows the power of large.
In addition, South Korea plans to introduce in 2015 the U.S. Hawk missiles. The missile equipped with infrared detectors, etc., at 20 km altitude can identify the 30 cm-sized objects, is second only to reconnaissance, strategic weapons.
South Korea also plans to introduce next year a special drill dozens of laser-guided missiles to bombs, "bunker buster" to destroy North Korea's underground nuclear facilities and is equipped with long-range artillery caves and other underground military facilities. U.S. missile exports to the strict restrictions, but the recognition of the sale to South Korea.
"bunker buster" in the 1991 Gulf War, the United States to attack 30 meters deep underground military command in Iraq specifically designed. "Bunker buster" machines or F15A fighter with stealth launch, the target through a laser-guided attacks. With a bomb in about 2000 kg explosive warhead was not all at once, but to reach 20 to 30 meters underground after the explosion.
100,000 investment to North Korea preparing military
According to South Korean Ministry of Defense said the person, will enter the Korean War Korean forces to maintain local stability. To this end, South Korea plans to invest 10 divisions of the 100,000 reserve army. According to South Korean authorities, South Korea, North Korea preparing military mission is to manage and protect Korean residents, clear resistance to the Korean army and other Korean forces. South Korea plans to the relevant divisions in the war broke out between 50 and 60 days into the Korean area. (Compiled: Spring)