Home
»
China military
» Chinese naval fleet set sail fifth escort the Gulf of Aden (Figure)
Chinese naval fleet set sail fifth escort the Gulf of Aden (Figure)
Date:2011-09-01
Author:admin
Category:China military
Comment:0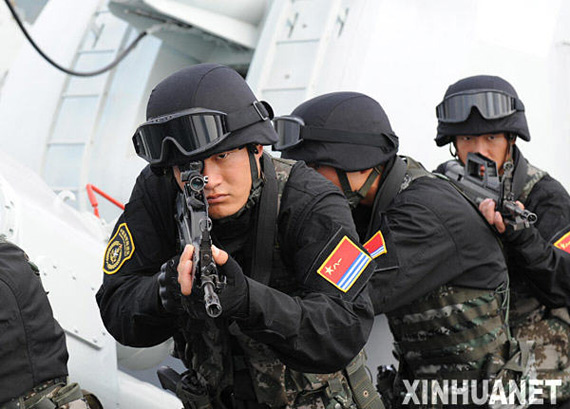 Fifth Fleet escort commandos conducting an anti-piracy training (March 2, photo).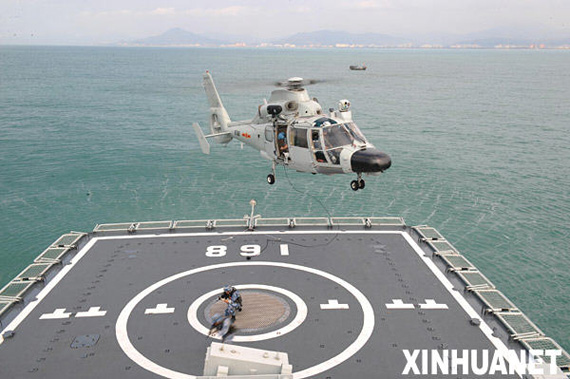 Fifth Fleet escort helicopter during downhill training in special operations (February 27, photo).
China news agency, Sanya, March 4 (Reporter Yin Haiming) – 4 am, the fifth Chinese naval fleet to escort a military port terminals from the Sanya untwisting set sail, the Gulf of Aden, Somali waters take over the implementation of the fourth installment of convoy escort formation task.
Xu Jianzhong, deputy political commissar of the navy at farewell ceremony. He pointed out that, during the fifth escort, Gulf of Aden, off the Somali coast Video: China's Navy fifth fleet set sail the Gulf of Aden to escort Source: Guangdong TV" Noon News " good weather conditions, piracy active escort will be very difficult and arduous task, the Navy escort officers face more severe challenges and tests.
fifth Chinese naval missile destroyer escort fleet by the "Guangzhou" ship, supply ship, "Weishan Lake" ship, and advance to the Daya Ding Bay and waters off Somalia to escort mission execution missile frigate "lake" ship , two ship-borne helicopters and dozens of Marines formed. Formation composed of three warships are designed and built by the Chinese new warships. "Guangzhou" ship full load displacement of 5585 tons, with a strong air defense, anti-ship, anti-submarine warfare and electronic warfare capabilities. "Lake" ship-load displacement of 4,000 tons, mainly to prepare a-ship missile systems, short-range defense gun, excellent service since completion of combat readiness, exercises and other major tasks, now the Gulf of Aden off the Somali coast perform escort missions. "Weishan Lake" ship is fully loaded displacement of 20,560 tons, with fuel, fresh water, main non-staple goods such as comprehensive supply capacity of dry liquid, can the three ships and a helicopter for supplies, to the formation, logistics, equipment and health care.
since December 26, 2008, the Chinese navy has sent four batches of 11 ships went to the Gulf of Aden, off the Somali coast perform escort missions, so far 172 have been successfully completed approved 1643 foreign ships of escort missions, rescue attacked by pirates and foreign vessels 23 to safeguard national interests and to make outstanding contributions to world peace, widely praised by the international community.
day at 10 am, the majestic "People's Liberation Army Song" played. "Fleet set sail!" Xu Jianzhong, deputy political commissar of the navy with the order, the fifth fleet escort commander, deputy chief of staff of the South China Sea Fleet, pomelo and fleet political commissar Zhang, deputy director of the Political Department of the South China Sea Fleet, led by Chen Yan formation of two warships to escort slowly left the naval port, to the Gulf of Aden, Somali waters moving. Dressed in full military uniform Bai Haijun warships escort officers in their respective district lined up on deck, to the motherland and the people Zhuang Yanjing Li, waved goodbye.
It is reported that the Navy fleet will be the fifth convoy arrived in Banda Aceh Ding Wandong mid-March, the Ministry of Sea, where the implementation of escort missions to succeed is the fourth convoy formation, the Chinese navy escort action toward an orderly replacement, normalization has taken new steps to run. (End)
Chinese Navy fifth fleet sailing the Gulf of Aden to escort Source: Guangdong TV" Noon News "video
have _COUNT_ Comments I want to comment
Related reading:
Photos: Navy special operations forces to escort the fifth public appearance
Photos : I am ready for the Navy fifth fleet will set sail escort
my 5th special forces escort everyone to master the 1-3 special operations expertise
Guangzhou ship ship Weishan lake perform military escort ship the fifth installment of the lake task
South China Sea Fleet, Vice Chief of Staff: Navy brand into an international escort
related topics: Chinese naval escort to Somalia waters