Malaysia, South Korea, China from some of the media tend to buy warships dock board
Date:2011-09-01
Author:admin
Category:International military
Comment:0
Chinese navy 071 ten thousand tons amphibious dock landing ship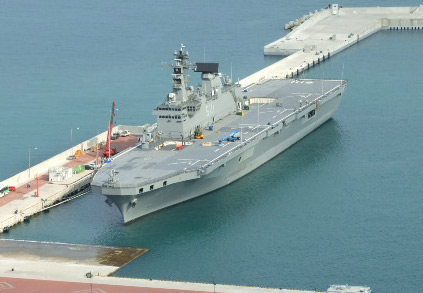 Korea Dokdo amphibious assault ship
Global Times reporter Jia-Jun report: the only Malaysian Navy tank landing ship "de la India, Sri Brad" (No. side No. 1505) on October 8 after being burned scrap, ships for the procurement of its successor has frequently discussed by the media in Malaysia, "Kuala Lumpur, security reviews" website on 18 October carried an article saying that many Malaysians are concerned about when it will purchase New multi-function support vessel to fill the capacity and improve the Navy's logistics problems.
Ma media article said, most discussions have tended to view the article from the West or South Korea, China imported a new multi-functional support vessel. But the media's point of view tend to purchase Singapore Ropax fleet support ship or Indonesia and South Korea jointly developed Makassar level (Makassar) amphibious dock landing ship (LPD).
article said, Makassar-class amphibious dock landing ship of the former two in Korea, can be equipped with three helicopters, Indonesia has been transformed, can carry five helicopters. The board-level dock 125 meters long, a displacement of 7300 tons full load displacement of about 1.1 million tons, speed 15 knots, can carry two vehicle/personnel landing craft, transport 218 soldiers, endurance 30 days, can be installed according to customer requirements and ship air defense missiles gun.
Ma media also mentioned that according to earlier news, Malaysia's new support ship tonnage of about 1.3 million tons, can carry 3-4 helicopters, Makassar class can basically meet the needs of the Malaysian Navy . Ma also pointed out the media, from neighboring countries (Indonesia) imported vessels, requires a lot of political will.